The purpose of this website is to promote our businesses and also to entertain with a picture, a cartoon, a joke or a thought for the day. We appreciate any feedback and welcome any questions regarding anything we may have knowledge of. Please send questions / comments to: bobchag@yahoo.com


Want to see some cool Photographs?
Check out: bobchag.smugmug.com
Digital Photography by...Me!
And by the way...I now have the audio and video capabilities of putting together slideshows and presenting them at your next birthday party, quinceanera, wedding reception etc...sorta like being your complete visualization empresario!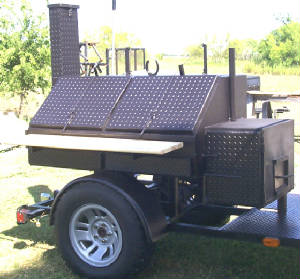 Whenever I add something new to my website, I'll put down the page number and the date, right here, to save you a little browsing time:
Page - 2(car wash) 1( Abuelito), 5(Neddie's Beauty World) 1 ( Abuelito) 1 (Abuelito) 9(George Strait in '82), 1 ( red-skinned) 1 ( Abuelito) 9 ( Mana ) 1(Abuelito) 1(Abuelito) 1 (Abuelito) 2&5 (Neddie's ) 2 (Sikscreener wanted)1( Marion tne Barbarian) 2 ( Spurs backboard ) 2 ( Breeze at Bikini's ) 1&5 ( Photography and slideshows ) 2 (More Mariah! ) 9 (Mana) 2 ( Javelin throwin' Leryn) 1(the 'Boys are back!) 1 (Abuelito) 1 (Abuelito)1 (Abuelito)
Date - 8-26-07, 9-30-07, 10-5-07, 10-12-07, 10-24-07, 10- 28-07, 10-31-07, 11-20-07, 11-20-07, 12-10-07, 12-22-07, 12-29-07, 1-1-08, 1-5-07, 1-5-07, 3-1-08, 3-1-08 , 3-1-08, 3-15-08 , 8-14-08, 8-14-08, 8-14-08, 9-8-08, 9-14-08 , 9-21-08.
This is the cover to the Sports Illustrated, 2006 Hall of Fame Class, Commerative Issue (try saying

that

, six times, real fast). Will we ever find another Troy Aikman? If we found a quarterback with half his talent we'd be in good shape!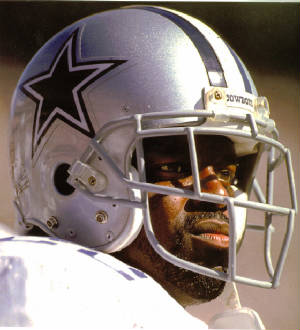 Emmitt Smith - The Best
The Big 3 in Big D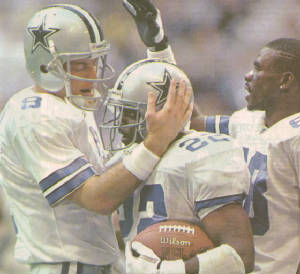 Aikman, Smith and Irvin - The Glory Days
It's that time again folks... THE BOYS ARE BACK!!!
Everyone asks me "What do you think about the Cowboys this year?"
If you get sick, you see a doctor. If your car breaks down, you see a mechanic. If you wanna build a house, you see a builder. I think you know where I'm going with this. If you want to know about the Cowboys you see Abuelito ( or Grandfather, to you english speaking folks ). Abuelito was a fan since the first whistle, the first snap and that glorious first touchdown ( which actually took a while since the 'boys didn't start out as the scoring machine that they are today ). He may be gruff, he may be crude and he will butcher the spanish language like Granzine Meat Market on a Friday , but he will always give you his opinion! We'll get his expert analysis of every game this season plus his comments on training camp. Let's start with some easy questions since we don't want to max out his blood pressure before the start of the season.
BC: Abuelito, what do you think of the Cowboys new Stadium?
Abuelito: Que suave, no mas que no cueste asta el chiquito para entrar! (Great, as long as the prices are reasonable).
BC: Abuelito, what do you think about Rowdy, the Cowboys mascot?
Abuelito: Ese payaso maricon! (He's funny).
BC: Abuelito, the Cowboys Cheerleaders?
Abuelito: Estan buenas! (They're good).
BC: What about the 3-4 defense?
Abuelito: 3-4 , 4-3 , 2-5 me emporta madre! Como dice Al Davis, "Just Win Baby"! (Doesn't matter, "Just Win Baby")
BC: What do you think about the Drew Bledsoe acquisition?
Abuelito: Es dies anos menor que Vinnie, tuvo una interseption menos el ano pasado que Vinnie y no puede moverse tan bien que Vinnie. Con eso te lo dije todo! Si juegan bien los "linemen", los corridores y los "receivers" entonses tenemos chansa! (He's 10 years younger, he threw one less interception last year and he is not as mobile as Vinnie. If the supporting cast plays up to their potential we"ll have a chance).
BC: You're obviously a man of few words.
Abuelito: Si. (Yes).
BC: What do you think of the triplets' induction into the Ring of Honor?
Abuelito: Primero, Aikman es un guero solo que no pueden ser tripletos. Pero los tres juntos estaban desgraciados! Era tiempo que Jerry Jones los reconocieran por ganadole tres Super Bowls! ( The three of them together were incredible, it's about time Jerry Jones recognized them for winning him three Super Bowls ).
BC: Joe Gibbs said that people from Dallas are ugly, care to comment?
Abuelito: Yo, obviosamente, no soy de Dallas. Estoy medio guapo, no crees?
No me mires asi pendejo, estoy jugando! Creo que ese cara de papa aguada
no tiene espejos en su casa! ( I'm obviously not from Dallas, I'm kinda handsome
don't you think? Don't look at me like that stupid, I was only kidding! ( He said, after
misinterpreting my shocked reaction to his comment - BC ) I guess Joe Gibbs doesn't have mirrors at his house).
BC: Thank you. ( I said, trying not to look him in the eye )
BC: Abuelito, what do you think of the Cowboys' performance against the Arizona Cardinals?
Abuelito: Como me duele la cabeza! ( My head hurts! )
BC: Abuelito, are you allright, you look pretty bad.
Abuelito: Esos pinche Cowboys me hacen tomar mas que lo que queria. ( The Cowboys made me drink more than I wanted to. )
BC: Could I offer you some aspirin and a glass of water?
Abuelito: Agua!? No tienes una Miller Lite fria? ( Water? Do you have cold beer? )
BC: Sorry, how about some orange juice?
Abuelito: Una Bud? ( A Bud? )
BC: Abuelito, I don't have any alcoholic beverages.
Abuelito: Pendejo. ( Stupid! ) ( He says under his breath and I pretend not to hear- BC )
BC: Abuelito, the Cowboys?
Abuelito: Que te dije antes joven? La pinche linea ofensiva es ofensiva! Tercero y cinquenta, que chingados es eso? Jacob Rogers y Torrin Tucker no valen lo que tapa un gato! ( What did I tell you before? The offensive line is offensive. Third and fifty yards to go? Jacob Rogers and Torrin Tucker need to dig themselves out of a hole. )
BC: They were pretty bad, huh?
Abuelito: " Pretty bad, huh?" ( he says sarcastically ) Valerion madre! Los unicos que fueron a jugar eran los pinche kickers! Que lastima! ( The only Cowboys that showed up to play were the kickers. )
BC: Perhaps the offensive line needs a little time to jell.
Abuelito: Esos pinches gordos ya son Jell....O! ( They are Jello. )
BC: That was pretty clever Abuelito, any closing comments?
Abuelito: Me duele la cabeza y nececito medecina. ( My head hurts and I need medicine. )
BC: Do you need a ride to the pharmacy?
Abuelito: Idiota, lleva me a la tienda para que me compres un sies! ( Idiot, take me to he store so that you can buy me a six pack. )
BC: o.k.
BC: Abuelito, the Cowboys defeated the Seahawks, were you impressed?
Abuelito: Si les ganamos a los otros pajaros entonces estare impressionado. Los pinche Aguilas son los que tenemos que destruir! Pero si, jugaron bien DeMarcus Ware, Justin Berioult y Julius Jones. Porque no jugaron a Tyson Thompson? Ya ves, si no lo aguardan, un equipo como los Texans lo van a levantar de seguro! ( The Eagles is the team that we need to beat. Ware, Berioult and Jones played well but why didn't they play Tyson Thompson. If they don't keep him, a team like the Texans will pick him up, for sure!)
BC: Bill Parcells just turned 64, would like to wish him happy birthday?
Abuelito: No lo creo! Ese cabron es menor que yo? ( I don't believe it, he's younger than me?)
BC: Abuelito, you don't look a day over...
Abuelito: Orale Loco! No estamos hablando de mi. Pero te voy a decir, las viejas todavia me seguien. ( Watch it dufus, we're not talking about me, but if you must know, the ladies still chase after me.)
BC: Abuelito, you are a ladies man?
Abuelito: Las viejas te seguien cuando cuelgas como un... ( the ladies chase you when you have a lot to offer.)
BC: Abuelito, this is a family oriented website, we can't speak in that manner!
Abuelito: Perdoname... pero si no me crees pregunta le a la senorita Empinada...Ahum... la senorita Empanada. ( Sorry... but if you don't believe me ask Miss Poundcake.)
BC: Abuelito! Back to football. Did you see Taco Wallace make some good catches for the Seahawks?
Abuelito: Ni un Mexicano le nombraba Taco a su hijo! Le llamavas Hamborguesa a un hijo tuyo? ( No Mexican would name his son Taco, would you name your son Hamburger?)
BC: Good point! Up Next, the Texans.
Abuelito: Traemelos! ( Bring 'em on! )
BC: Abuelito, where have you been? The public has missed your expert analysis of the Cowboys/Texans game.
Abuelito: Los Cowboys jugadon bien el Sabado pasado. La defencia jugo bien especialmente Roy Williams. Le puso una chinga a los recievedores de Houston. Drew Bledsoe, Julius Jones, Patric Crayton y Tyson Thompson jugadon excelente. Pedo quando ellos juegan bien, todos se olvidan de la linea offensiva. Si ellos no fuegan bien los de mas no valen madre! Romo tambien se aviento!
Justin Beriault, Dat Nguyen, Rob Petitti y Lousaka Polite, que clase de nombres son esos? Creo que el pinche Parcells quiere complicar me vida mas que lo ya esta. Necesitan nombres Mexicanos como el de mi nieto, Carmelito Ygnacio Zapata de San Antonio, no cres? ( The Cowboys played well Saturday , especially the defense and Roy Williams. He really put the hurt to the Houston recievers. The offensive stars played well but, without that front line playing up to their capabilities, the would be ordinary. What's up with the funny last names? They need to use Mexican names like my grandsons')
BC: Actually, I prefer simple names like Joe, Sue and Bob.
Abuelito: Tu estas "simple", loco! ( You're simple, looney! )
BC: Abuelito, it seems to me that you avoided my first question.
Abuelito: Bueno, te voy a decir pero no quiero que lo pongas en tu pinche website, claro? ( I will tell you, but I don't want you to put it in your fascinating website )
BC: Si. ( Yes )
Abuelito: No sabia que hablabas espanol, tonto! ( I didn't know that you spoke spanish, fool! )
BC: Actually, that was the extent of it.
Abuelito: Pendejo! Bueno, el sabado pasado fuy a ver el partido con mi nieto Reyes y sus amigos. Nos echamos unas frescas y cuando se acavo la cerveza, Rey saco una botella de tequila. Los machos no toman solo un tragito, y yo les eva ensenar a esos bebes como toma un hombre! Me chinge la mitad de la pinche botella, contoy guzano! En tiempo, andaba bailando cumbias y cantando como James Brown!
( Silly, OK, Saturday I watched the game with my grandson Reyes, and of course, we had a few beers. We ran out of beer and Rey busted out a bottle of Tequila. Macho men don't just take a little swig. I was going to show these babys how a real man drinks! I finished half the bottle, including the worm. Before you knew it, I was singing and dancing. )
BC: I don't see that as a problem, I believe everyone is entitled to a small indescretion occasionally.
Abuelito: " Indescretion" ( He says sarcastically ) Pendejo! dejame acabar! Las ultimas palabras que requerdo fueron " Road Trip ". ( Dummy, let me finish, the last words I remember were " Road Trip" )
BC: Abuelito, you don't remember where you went?
Abuelito: No me interruptas, cara de papa! Espero que no tuve relaciones intimas! ( Don't interrupt me, Mr. Potato Head! I hope that I did'nt have sex! )
BC: Why abuelito? That is ordinarily a pleasant experience.
Abuelito: No cuando despiertas en Tijuana con los calsones al reves!!! ( Not when you wake up in Tijuana with your underwear on backwards!!! )
BC: I see... Up Next for the Cowboys... the Jaguars.
Abuelito: Van a jugar los "rookies". Yo espero la estacion regular. ( The rookies will play primarily. I'm waiting for the regular season. )
BC: As do I... and I appreciate your candor as well (I think).
BC. - Abuelito, did you happen to catch the Cowboy/ Jaguar game?
Abuelito: Crees que pajados maman? Por supuesto, " Too Tall"! ( Do you think birds drink through a straw? Of course, Too Tall Jones!)
BC: - Thats an obvious quip concerning my vertically challenged stature. You seem to like insulting me as much as you like the Cowboys, Abuelito.
Abuelito: - Mas! ( More!)
BC: - You seem angry Abuelito, have I offended you?
Abuelito: - Me prometiste que no evas a publicar la ultima communicacion. Y luego ayi esta para todo el mundo que vea! ( You promised not to post the last interview on your website, yet there it is for all the world to see! )
BC: - I did'nt see incriminating information in our interview and I excercised journalistic freedom.
Abuelito: - Voy a tomar ejercicio con tu cabeza redonda! ( I'm going to excercise with your round head.)
BC: - I sincerely apologize. But I must warn you, I have belt in Judo.
Abuelito: - Judo? Que chingaos es eso? Yo tengo una faja cafe, prieta y roja, en Chingasos del Barrio! ( What's Aikido? I have a brown, black and red belt in, Kick Your Butt in the Neighborhood! )
BC: - It was an error in judgement on my part and it will never happen again.
Abuelito: - Entonces te perdono... "Lucky Charms"! ( in that case I forgive you, leprechuan.)
BC: - Abuelito!
Abuelito: - Es la ultima ves que te voy a insultar, joven. ( That was my last insult to you, kid. )
BC: - Care to comment on the game, Abuelito?
Abuelito: - Buen juego! Parece que estamos listos para la estacion regular. ( Good game! I think the Cowboys are ready for the regular season.)
BC: - After a good series of running the football, Coach Parcells walked up to Tyson Thompson and told him he had made the team. Were you pleased?
Abuelito: - Si, cuando un joven trabaja duro y juega de corazon, uno tiene que ensenarle respeto! ( When a youngster works hard and plays with heart, he gains respect.)
BC: - Care to comment on the acquisition of Peerless Price?
Abuelito: - Terry Glenn tiene historia de maleses y Patrick Crayton es bueno pero joven sin mucha experencia. Necesitaban un veterano que puede jugar. ( Terry Glenn has a history of getting hurt and Patrick Crayton while good, is still inexperienced. We needed a veteran that can still play.)
BC: - Four days until the start of the Cowboys 2006 season. Do you have any predictions?
Abuelito: - Si, los Cowboys van a ganar mas que perder, le ganan a los Chargers con tres puntos y me voy a poner bien "cuete" el domingo! ( The Cowboys will win more games than they lose this year, they will beat the Chargers by three points and come Sunday, I'll be lit like a roman candle! )
BC: - I predict a Super Bowl appearance for the Cowboys, they will beat the Chargers by seventeen points and with my chips, hot sauce and Big Red, I too, will party like an animal.
Abuelito: - Pendejo! ( dork )
Cowboys 28 Chargers 24
BC: Abuelito, the Cowboys defeated the Chargers. This was their first opening day win in five years! To defeat a viable contender like the Chargers, the Cowboys have surely reacquired the respect that they used to own in days past. To watch them play in this manner has reassesed Cowboy fans' expectation of a resurgence in this proud organization. In other words, this a good day to be a Cowboy fan!!!
Abuelito: Ya acabaste? Piensava que querias mi opinion de el partido. Si o no? ( Are you finished? I thought you wanted my expert analysis of the game?)
BC: Sorry Abuelito, I guess that I am still a tad giddy over the victorious outcome! Please, give us your analysis.
Abuelito: Primero, "giddy"( he says sarcastically ), comienzaron con cinco penaltudas en sucescivo. Dije entre mi, aqui vamos otra ves! Pero, no! Se amarradon los pantalones y comienzaron la chinga! Es verdad que los Chargers son un buen equipo, pero este dia los Cowboys fueron mejor! Tanto tiempo de esperar que jugaran de corazon. Si, es un buen dia, por supuesto! ( The Cowboys started the game with five penalties in a row. I thought to myself, here we go again! But no, they toughed it out and began playing with heart! It is a good day to be a fan!)
BC: Overall, l thought the team played a well rounded game.
Abuelito:" Well rounded?", Crees que Jose Cortez y el equipo especial jugaron bien? Ese pendejo pataliava la pelota hasta la "end zone" todo el tiempo en el "pre-season", pero ayer, valio madre! Los pinche Chargers comiensaron en el lado de los Cowboys dos veces! Estos tienen que mejorar! ( Do you think Jose Cortez and the special teams played well? In the pre-season he would kick the ball into the end zone every time. Yesterday, he sucked! The Chargers started on the Cowboys side of the field twice! This needs to improve! )
BC: I see your point. How about the Offense and the and the great defensive stand at the end?
Abuelito: La ofenciva jugo bien. La linea le dio tiempo a Drew Bledsoe y el hiso unas beunas tiradas. Patrick Crayton fue la estrella de la offensia, pero en verdad, todos jugaron bien. Con Julius Jones, Keyshawn, Jason Witten, Terry Glenn y ahora Patric Crayton, estos liones estan listos para la caceria! La defencia tambien jugo bien, no gracias a Jose Cortez, que los hiso comienzar con las espaldas a la pader! Glover, Nguyen, y los gatos jovenes, Ware, Spears y Canty, en tiempo, van a ser liones!!! Roy Williams, el lion principal, ahora tiene compania en la forma de Travis Henry. Henry y Arron Glenn fue dinero buen gastado en el parte de Jerry Jones!
( The offensive line gave Bledsoe time and he delivered some good passes. Patrick Crayton was the offensive star, but in reality, everyone played well. Jones, Johnson, Witten, Glenn and now Crayton, are lions ready for the hunt. The defense played well considering they played with their backs to the wall, thanks to Jose Cortez and poor tackling on special teams. Glover, Nguyen and the new cats, Ware, Spears and Canty will, in time, be lions as well! The lion king, Roy Williams now has good company in the form of Travis Henry. Henry and Arron Glenn was money well spent on Jerry Jones' part.)
BC: Did you watch the New Orleans Saints defeat Carolina?
Abuleito: Quien no vido ese partido? Los Saints jugaron inspirados! Lo siento para la jente de New Orleans. Le mande parte de mi cheque de seguro social a la cruz roja y no mas pude comprar un sies durante el partido. Pero, ese tambien, fue dinero buen gastado. ( Who did'nt watch that game? The Saints played inspired football. I feel for the people of New Orleans and I sent the Red Cross part of my Social Security check. I only had enough money to buy a six pack for the Cowboy game but the money I sent, again, was money well spent! )
BC: Thank you Abuelito. ( I said, with a renewed respect for this gruff old man. )
Cowboys 13 Redskins 14
BC: Abuelito, are you alright? You look terrible! Like the rest of us, you probably had to drown your sorrows last night. Correct?
Abuelito: Negativo, loco! Celebre porque los Cowboys me ensenaron otra manera de preder. Por estar pendejos!! Para ser un champion, los jugadores buenos juegan bien cuando tienen que jugar bien. Roy Williams y Aaron Glenn fueron quemados una ves por Santana Moss. Pero en lugar de piensar " Tal ves juega bien este cabron y vale mas no dejarlo correr libre", pero no! En ves de darle un chichon en la linea, lo dejaron correr como un relampago, y los quemo de vuelta! Esa era la primer pendejada. Cuando nesesitan un primero bajo, puedes contar que Flozell Adams va tener una penaltia. Drew Bledsoe, con prisa, ase unas tiradas horribles. Sean Peyton todavia no sabe manijar juegos consistamente. Cuando necesitan quatro yardas, porque corren solo por tres??? Es locura!!! ( No fool, I celebrated because the Cowboys showed me another way to lose, by being stupid! Champions play well when they have to play well. Roy Williams and Aaron Glenn got burned once by Santana Moss. Intead of realizing that he should'nt be given a lot of room to run and to bump him on the line or play him closer, they let him burn them again! That was the first stupidity. When the Cowboys need a first down, you can count on Flozell Adams to get a penalty. Drew Bledsoe, when under pressure made some horrible throws. Sean Peyton can't call a consistantly good game. When you have a third and ten or a fourth and four, why is a three yard play called? This is crazy! )
BC: There were obviously some mistakes made Abuelito, but this is only the second game.
Abuelito: Estos eran los PINCHE REDSKINS pendejo! Perder nolease, pero no a los pinche Redskins!!!! ( These were the freakin' Redskins, dummy! It doesn't matter if we lose one, but not ot the G**#**mn Redskins!!! )
BC: Granted, it was a bitter pill to swallow, but I feel that the Cowboys will learn from their mistakes and still have a great season.
Abuelito: Vives en fantacia, estupido. Hablando de fantacia, lleva me a la tienda para que me compres un seis y para ver la chica Marisol! ( You live in a fantasy world, stoop. Speaking of fantasy, take me to the store so that you can buy me a six pack and I can check out Marisol! )
Cowboys 34 49ers 31
BC: Abuelito, the Cowboys came back from a 12 point deficit in the 4th quarter to beat San Francisco, was that an awesome game or what?
Abuelito: Me acabe las unas de cena, seguido con un corriente de cerveza fria! ( I had my fingernails for dinner followed by a beer chaser.)
BC: That was definitely a nail biter. Why do you think the past three games have been so close?
Abuelito: Pienso yo que los vaqueros todavia estan creciendo. En tiempo van a madurar y poder jugar juntos con la experenica de los mejores equipos. ( I think the Cowboys are still growing and in time, they will mature, and be able to play together as a team like the best in the league.)
BC: The Cowboys showed a lot of character in their ability to come back and not quit.
Abuelito: Si, Este equipo me aquerdan de mi. ( This team reminds me, of me. )
BC: They remind you of your resilliance, in your ability to partake of the grape and still be able to maintain a part time job?
Abuelito: Nolease que un hombre tome lo que toma, no mas que pueda mantener sus negocios. Muchas veces me dice mi vieja," Viejo porque mo dejas de tomar?" Mi contestacion? Porque yo no quiteo! ( It doesn't matter how much a man drinks, as long as he can maintain his business. My wife always nags for me to quit drinking. My answer? I'm not a quitter! )
BC: Abuelito, there are many reasons for a person to quit drinking, your health for example, wouldn't you want to live long enough to see the Cowboys in the Super Bowl again?
Abuelito: Para siempre es muy largo, loco! ( Forever is a long time , Dummy. )
BC: I think I've seen that look in your eye before Abuelito. O.K. I'll take you to the tienda ( the store).
Cowboys 13 Raiders 19
BC: Abuelito, the Cowboys had another bad game.
Abuelito: Pinche Arnold Medina! ( Rotten Arnold Medina! )
BC: I beg your pardon?
Abuelito: Este jugador cabron, Medina, me apeusto una lata de Posole que ganavan los pinches Raiders! ( This player, Medina, bet me a can of Posole that the Raiders would win. )
BC: A can of Posole? A soup made of hominy and pork, Correct?
Abuelito: Si. ( yes )
BC: That's not so bad Abuelito. It can't cost more than a few dollars.
Abuelito: No pendejo, el que pierde tiene que comerse una lata de Posole! ( No crazy, the loser has to eat a can of Posole! )
BC: I can't say that I have ever tried Posole but from your demeanor I get the impression that it isn't very delectable.
Abuelito: Muy chingon, "delectable"! Es mierda, joven, pura mierda! ( Delectable? mister big stuff! It's crappy! )
BC: Perhaps you can spice it up a bit to make it somewhat tasty.
Abuelito: Si, con una lata de mierda! Dios, quitame este pendejo! ( Sure, with a can of poop! God, get this fool away from me! )
BC: Abuelito, please, your analysis of the game.
Abuelito: Cuando mi vieja necesita algo hecho en la casa me hace una lista: Viejo, pinta mi cuarto, lava los trastes, saca la basura o cuelgame esas cortinas... ( When my woman wants something done around the house she has a list: paint my room, wash the dishes, take out the trash or hang those curtains for me... )
BC: Those are called honey do's. I have a big list that I am currently...
Abuelito: No me interrumptes, chiquio! Nolease cuantos "honey do's" yo a hecho, solo una noche del pedo con los amigos y otra ves valgo madre! ( Don't interrupt me, small fry! Regardless of how many honey do's I accumulate, one night out with the boys and I'm back to worthless! )
BC: I don't understand how this relates to the game, Abuelito.
Abuleito: Mira, "Einstein", Drew Bledsoe a veces hace unas pases orribles y luego despues, hace un pase lindo como el que le tiro a Terry Glenn. Es "Inconsistant'! ( Look " Einstein", Sometimes Drew Bledsoe throws some ugly passes and then later he throws a beautiful pass like the one to Terry Glenn. He is inconsistant. )
BC: Abuelito I am impressed with your mastery of the english language!
Abuelito: Eso lo dijo Troy Aikman, tapado. ( Troy Aikman said that, dummy. )
BC: I see... What do feel is the answer to the Cowboys' woes?
Abuelito: Bill Parcells tiene que hecharle fuego en las nalgas a sus jugadores y a Sean Peyton en bolla. ( Bill Parcells needs to light a fire under his players ass, and Sean Peyton as well. )
BC: I don't understand "en bolla". Some dialects have a propensity to be misunderstood.
Abuelito: Como sea, yo no soy de Espana o Mejicles y como dice mi caramiada... perdon... mi camarada, Joel Flores, si no te gusta "Vamonos a la chingada"! ( Whatever, I'm not from Spain or Mexico and as my friend Joel would say, if you don't like it, get out of my space! )
BC: Right... OK, up next, Philly.
Abuelito: Van a tener que jugar como demonios, pero todo es posible. ( They will have to play like the devil but anything is possible. )
BC: Do you need me to take you to the store Abuelito?
Abuelito: Gracias, ahora no, chico. ( Not today son. )
BC: Huh? ( I thought to myself, in amazement.)
BC: "How 'bout them Cowboys", Abuelito? This was the best overall game in the Bill Parcells era. The offense and the defense dominated the mighty Eagles. At a Saturday night meeting, offensive coordinator Sean Peyton told the team " We are going to attack". Boy did they ever! The blitzkrieg started on the very first play from scrimmage and the Parcells style of ball control offense, ended. The Cowboys took the game to the Eagles. They seemed stunned and never recovered. It was a thing of beauty for Cowboy fans everywhere! In my opinion, the offensive line deserves most of the credit. Bledsoe had time to throw effectively and holes were opening up for the backs. Oh yeah, and all the defense did was shut down the Eagles' league best offense! I gotta tell you, Terrell Owens wasn't going to pose on our star this year. And even if he had, you can bet that Roy Williams would be there to kick his butt off of it! I have seen butt whuppings in my time but...
Abuelito: Ya acabaste, panfilo? A veces se te va la onda. Quieres hoyier mi opinion? ( Are you finished, idiot? You have a tendency to lose it. Do you want my opinion?)
BC: Sorry Abuelito, but the thought of Terry Glenn streaking down the sideline, Jason Witten playing like the pro bowl player he is, Julius Jones and Tyson Thompson running wild against the defense, Drew Bledsoe throwing the ball ala Troy Aikman, Jose Cortez kicking field goals from further and further away and Roy Williams and the defense "laying the wood" on the Eagles makes me want to turn cartwheels!
Abuelito: "Turn cartwheels", de verdad que te gusto.( He says sarcastically) Dejame decirte la verdad antes que te sucies los pantalones. Un juego no hace un estacion completo. Pero, que bueno que le dieron la torre a los pinche Aguilas! McNabb y Owens ahora saben quien son sus papases! ( You must have really enjoyed the game to do cartwheels! Let me tell you how it is before you soil your pants. One game does not a season make. But, it's good to see the Cowboys beat up on the stinkin' Eagles. McNabb and Owens now know "who's yer daddy"! )
BC: Yes, who would have thought that the "attack" mode would demoralize one of the best defenses in the league?
Abuelito: Los muchachos necesitavan tiempo para jugar como un equipo de experencia. ( The boys needed time to play together as a unit. )
BC: I think they have advanced to the next level!
Abuelito: Si, estavan mas calientes que Pamela Anderson en un pinche bikini. ( Yes, they were hotter than Pam Anderson in a skimpy bikini. )
BC: I must concur, but do you think that their hot streak can continue against Eli Manning and the Giants?
Abuelito: Le van a sacar los pedos a Peyton chiquio. ( They will make little Peyton react nervously. )
BC: Abuelito, I brought you your favorite kind of beer... iced down and free!
Abuelito: Gracias, pero ahora no, chico. ( Thank you, but not today .)
BC: Huh? ( I said to myself in disbelief... again!)
Cowboys 16 Giants 13
BC: Abuelito, how have you been? I have been trying to reach you.
Abuelito: Appenas llegamos de Dallas. Fuimos a ver los Cowboys Y los Gigantes! ( We just got back from Dallas. We went to the Cowboys/Giants game.)
BC: Another nail biter, for sure! How was the crowd at Texas Stadium?
Abuelito: Pura locura! Yo estaba bien alto... ( It was crazy, I was really high...)
BC: Drugs? You were high on drugs, Abuelito? Please say it isn't so!
Abuelito: Pendejo! Estavamos sentados arriba en la seccion de naris sangrientas. ( Crazy! We were up in the nose bleed section! )
BC: Sorry Abuelito, I misunderstood...
Abuelito: Dejame decirte un chiste:
Un nenito fue a cortarse el pelo. Se sento en la sillita de madera que usan para los ninos y las patitas todavilla le cuelgavan. El barbero le pregunto al nene, "Como quieres que te corte el pelo?". "Ay como se mire mejor" respondio el chiquito. "Quieres que te corte las patillas?" le pregunto el barbero. Enojado, el nenito le contesto, " Como quires que camine, con las manillas?" ( Please ask a tex-mex speaking person to explain this joke to you because it really does not translate well - BC )
BC: That was funny abuelito. This is conjecture on my part, but, I feel a hint of sarcasm in your banter.
Abuelito: Aveces cuando uno dice una palabra, un pendejo lo comprende mal! ( Sometimes when a person uses a word an idiot will misinterpret.)
BC: That would be a homonym, correct?
Abuelito: Correcto! Ala otra dejame acabar de hablar! ( Correct, next time let me finish my sentance! )
BC: I'm sorry abuelito, I shouldn't jump to conclusions.
Abuelito: Si, no es bueno a "jump to conclusions" porque los Cowboys aveces juegan bien y lluego mal. Estan arriba de su division pero estan ayi con un poco de suerte. ( It is not good to jump to conclusions, the Cowboys play good and then sometimes they play bad. They are at the top of their division but they had some luck getting there.)
BC: They were lucky to beat the Giants?
Abuelito: Si, aveces es mejor tener suerte que estar perros! ( Yes, sometimes it is better to be lucky than good! )
BC: Yes, luck of the fortuitous nature is always best but we were sitting on pins and needles there for a while.
Abuelito: Si, prefiero una patada en las canicas. ( Yes, I would rather be kicked in the marbles! )
BC: Any predictions for the Seattle game?
Abuelito: Si, los Cowboys y los Seahawks van a jugar el domingo. ( Yes, the Cowboys and the Seahawks will play Sunday.)
BC: Allrighty then... A bold prediction. I'll see you after the game. Thank you, Abuelito.
BC: Abuelito, another close loss! How can the Cowboys score 33 points against the Eagles and then come out so flat against the Seahawks?
Abuelito: Es facil, mijo. Valen Madre! Son como los caramiadas en el trabajo.
( Easy, they suck! They are like the gang at work.)
BC: Excuse me?
Abuelito: Si el mayordomo no los regana seguidito, los flojos no van a trabajar duro! Parcells les va a dar una reganada y van a jugar bien contra los Cardinales. ( If the boss isn't on their butts all the time, the fluffers won't work as hard! Parcells will chew on some butt and the Cowboys will play well against the Cardinals. )
BC: Jose Cortez was waived this week, do you feel that was warranted?
Abuelito: Ese sinverjuensa misteo la "field goal" y lluego mira al detenedor como que le quiso echar la culpa. Vamonos a la chingada, Cortez! ( That loser misses the field goal and then he looks at the holder as if he was to blame! Good riddance, Cortez! )
BC: Drew Bledsoe threw an errant pass with only seconds to go in the game. What could he have been thinking?
Abuelito: La mejor pregunta es, Quien le dijo que tirada un pinche pase? Puras pendejadas! ( A better question would be, who instructed him to throw a pass? That was a dumb call.)
BC: Again, the defense played well against a good offense.
Abuelito: Que lastima que la defencia no puede jugar offencivo tambien. ( Too bad the defense can't play offense.)
BC: I hope the Cowboys can turn this losing trend around.
Abuelito: Que no se empongan a perder! Hay nombre para equipos que juegan asi. ( As long as they don't get used to losing! There are names for teams like that.)
BC: Houston Texans?
Abuelito: "Losers"! No saqes mis modos, Loco. Yo soy el comidiante! ( Losers! Don't copy my ways, I'm the comedian here! )
Marion Barber - 2 touchdowns 127 yards
BC: How 'bout them Cowboys, Abuelito? You were right, Bill Parcells challenged the team and they responded with a resounding win. Would it be fair to extrapolate on the Cowboys' emergence as a power in the NFC East?
Abuelito: Como dices, Jose Collejiante? ( What did you say, Joe College?)
BC: Ahem... The Cowboys continue to improve,especially Marion Barber. Would you say that he was the hero of the game?
Abuelito: Heroe? Si jugo bien. Todos jugadon bien. Pero heroe? Quien sabe. La gente usan esa palabra mucho estos dias. Michael Jordan, Emmitt Smith, Nolan Ryan, Roger Staubach, Wayne Gretzsky y Dale Earnhart, ellos eran buen ejemplos de atletas que se portaban bien en juego y en la vida. Pienso yo que nosotros mismos tenemos que ser heroes. Unas quantas semanas pasadas, oi por causualidad a los nietos decir, "Mira! Abuelito esta borracho otra ves!" Desde ese tiempo, decidi que ya no iva tomar enfrente de los ninos. ( Hero? He played well, they all played well. But hero, who knows? Jordan, Smith etc...are all good examples of athletes that were admired on and off the field. I believe that we need to be our own heroes! A few weeks ago, I overheard my grandchildren say," Look, Abuelito is drunk, again!" I decided not to drink in front of the children again! )
BC: That explains your declining my offer to buy your favorite beer ( cold and free).
Abuelito: Pero cuando juegan los Cowboys, No apuestes que voy estar sobrio! ( But when the Cowboys play, don't bet on me being sober! )
BC: Will you work on curtailing your language?
Abuelito: Paso a paso, pendejo! No tengo que ser tu heroe! ( One step at a time dummy, I don't have to be your hero! )
BC: That's OK, Abuelito. ( You have my respect, regardless, I thought to myself )
BC: The Cowboys have a bye next week. Will you root for the Texans or perhaps the Saints?
Abuelito: No, tengo que lavar mi camion. ( No, I have to wash my truck.)
BC: I agree, it doesn't feel like football season during the Cowboys' bye week. The Cowboys play the Eagles in two weeks on Monday night.
Abuelito: Dos semanas de tortura! ( Two weeks of torture! )
BC: Exactly! See you in two weeks. Thank you, Abuelito!
BC: Abuelito, the Cowboys beat the Eagles in the last 2 minutes of the game Monday night. Your impression?
Abuelito: "Good evening ladies and gentlemen, this is Howard Cosell".
BC: Abuelito that sounded just like Howard Cosell!
Abuelito: Ni modo loco! Quieres oir John Wayne? ( Of course ninny! Do you want to hear John Wayne? )
BC: Uh...sure...why not?
Abuelito: "The Cowboys are kickin' ass, right...pilgrim?"
BC: Abuelito that was amazing! You're a great impressionist!
Abuelito: Otro mas chico. "smooch", "smooch", "smooch"! ( One more. kiss, kiss,kiss! )
BC: Someone blowing kisses?
Abuelito: No estupido, es Terrell Owens besandole las nalgas a Andy Reid! ( No astute one, It's Terrell Owens kissing Andy Reids' ass! )
BC: I, like the Eagles, have had just about enough of Terrell Owens.
Abuelito: Te voy a decir un cuento: Una ves estaban una tortuga y un escorpion en un lado del mar. El escorpion nececitava ir al otro lado. El escorpion le dijo a la tortuga, "Si me llevas al otro lado no te mato". La tortuga, no quieriendo a morir, le contesto "suevete en mi espalda y te llevo". A la mitad del mar el escorpion le dio un piquete bruto a la tortuga. La tortuga le pregunto "porque me picaste?, ahora los dos vamos a morir." "Porque soy escorpion, eso es lo que yo hago" respondio el escorpion. ( Let me tell you a story: once there was a turtle and a scorpion on one side of the lake. The scorpion needed to get to the other side. The scorpion said to the turtle " If you take me to the other side I won't kill you". The turtle, not wanting to die, tells the scorpion, "Get on my back and I will take you across". Halfway across the lake the scorpion gives the turtle a powerful sting. The turtle asks, " Why did you do that? Now we are both going to die". "I am a scorpion that is what I do" was his answer. )
BC: A fitting tale, T.O. has had several chances to show that he can be a team player and has disappointed every time. The Cowboys have gone back to their conservative style of play and they play 3 games in 11 days. Will they be able to compete against the Broncos?
Abuelito: Los Broncos juegan tres juegos en doce dias, van a estar igual de cansados. ( The Broncos play 3 games in 12 days. Both teams will be equally tired. )
BC: Good point. Roy Williams was the star Monday night. Sunday he will go against another, and equally talented, Roy Williams. Any predictions?
Abuelito: Si, los Cowboys ganan el Domingo con catorse puntos, el Dia de Gracia ganan con tres puntos y voy a comer chingos de Guajolote! ( Yes, the Cowboys will win Sunday by 14 points, Thanksgiving by 3 points and I will eat lots and lots of turkey! )
BC: As will I, thanks Abuelito!
BC: Abuelito, the Cowboys won again! That's three games in a row! Is it my imagination or are the Cowboys one of the top teams in the NFC?
Abuelito: Si le ganan a los Broncos, entonces si los Cowboys van a ser unos de los mejores equipos. ( Yes, if the Cowboys beat the Broncos the will be on of the best teams in the league.)
BC: Was it my imagination or was Drew Bledsoes' passing kinda off?
Abuelito: "Kinda?" Estaba tirando mierda! Tienen suerte que pueden ganar con Bledsoe tirando asi. Cuando le juegen a un buen equipo no ganan con Bledsoe jugando mal! ( He threw crappy! They are lucky to win with Bledsoe playing so badly. The can't beat a good team with Bledsoe playing this way! )
BC: The Cowboys were able to run the ball consistantly but they seemed to settle for a conservative game plan or did I just imagine that?
Abuelito: Ya corta tu pinche imaginacion! Ya no estas en Kansas, Dorotea! Los juegos que faltan van a ser dificil de devedas! Y todos tienen que jugar bien. Hablando de Kansas, voy ir al partido contra los Kansas City Chiefs en Deciembre. ( Enough of your imagination! You're not in Kansas anymore Dorothy!
These last few games will all be tough, and for real! The whole team will have to play well. Speaking of Kansas, I am going to the Kansas City/ Dallas game in December. )
BC: That should be a great game. Would you mind bringing back a souvenier for me? I would really treasure a Jerry Jones bobblehead.
Abuelito: WHOP!!! ( he slaps me on the back of the head -BC ) Hay esta tu bobblehead, cabezon! Orale... te triego algo, pero va ser una sopresa. ( SLAP! There's your bobblehead... bighead! OK...I'll bring you something but it will be a surprise.)
BC: Great! Everyone loves surprises. Thank you Abuelito. Have a happy and safe Thanksgiving!
Abuelito: Tu tambien, joven. ( You too, kid.)
BC: Another demoralizing day for the Cowboys. They were in the game, toe to toe, with one of the best teams in the league, but they fell short, or to be exact, one Billy Cundiff field goal, short of a win.
Abuelito: Si es verdad que Cundiff la cago... pero, Pienso yo que la culpa es mas de el coordinario offensivo Sean Peyton. Sercas del fin de el juego le dan la pelota a Julius Jones, y sale con una yarda. Otra ves, otra yarda. Lluego un pase a Terry Glenn donde tiene que escaparse a el defensivo. Terry Glenn pesa cien ochenta completamente mojado! Que pinche pendejadas! Es verdad que le jugamos un buen juego a uno de los mejores equipos... pero acabar segundo, vale madre! La unica gracia es que los Gigantes tambien perdieron. El pataleador mistio quatro field goals! Que bueno... Gigantes culeros! ( Yes it's true that Cundiff messed up but I blame the offensive coordinator Sean Peyton. In the last few minutes of the game he gives the ball to Julius Jones and he gets one yard. Another down, one more yard for Jones! Finally he throws a pass to Terry Glenn where he is supposed to break a tackle to get a first down. Terry Glenn weighs one hundred eighty pounds soaking wet. Stupid play calling! It's true that the Cowboys played well against a good team but second place sucks! The only good thing is that the Giants also lost. Their kicker missed four field goals! Dumb Giants! )
BC: Well... that just about covers all the questions that I had. Besides the game, how was your Thanksgiving, Abuelito?
Abuelito: Tuve bastante para tomar, para comer y tambien un pedaso de... ( I had plenty to drink , plenty to eat and I even had a piece of... )
BC: Abuelito! I have to remind you again that this is a family oriented website!
Abuelito: PUMPKIN PIE !!! CALABASA!!! ( Pumpkin pie! Pumpkin head! )
BC: Forgive me Abuelito, I really must stop second guessing you. Will you still bring me a Jerry Jones bobble head?
BC: SWISH!!! ( The noise I hear as I duck to aviod his palm against the back of my head.)
BC: Another sad day in Cowboyland, Abuelito. As my neighbor Squache would say, " Whupped again!". The offensive line was horrendous! Or were the Giants just that good?
Abuelito: Si, Strahan y el otro, quien sabe como se llama, jagadon mejor que la linea de los Cowboys. Bledsoe no tuvo tiempo para tirar y los corredores no hayaban orifices. Ahora Jerry Jones sabe donde tiene que gastar su dinero, el ano que viene. ( Yes, Strahan and the other end, whatever his name is, played better than the Cowboy line. Bledsoe didn't have time to throw and the running backs couldn't find any holes to run through. Now Jerry Jones knows where he has to spend the most money next year.)
BC: Do you think the cold weather had much of an effect on the outcome of the game?
Abuelito: Tonterias! Estaba frio en el lado de los Gigantes tambien! ( Poppycock! It was cold on the Giants side of the field as well! )
BC: Can the Cowboys still win the division or is the best that they can hope for a wild card spot?
Abuelito: Tengo mucho miedo la semana quentra. ( I am afraid of next week. )
BC: The Chiefs? They are good, but outside of Arrowhead Stadium they haven't been very consistant.
Abuelito: No, mendigo, Me toco "jury duty" y no me cai ese jalle. ( No, Mandingo( it actually doesn't mean mandingo-BC ) I was called for jury duty and I don't like that sort of thing.)
BC: Abuelito, it is our civic duty to help keep the judicial system running smoothly. Besides, if you don't show up you could be fined.
Abuelito: Yo lo se... kimosabe! De buenas que mi abuela estaba en el hospital la ultima ves, porque si no, cien dolares!!! Y lluego te preguntan si les quieres dar paratras los sies dolares que te pagan para servir. Estan pendejos! Las pinche taxes y mi tiempo precioso no son bastante? Con sus seis, me compro un seis!
( I know... lone ranger! It's a good thing that my grandmother was in the hospital the last time I was called, otherwise, one hundred dollars! Then they ask if you want to donate the six dollars that you get for serving back to them. They're nuts! The taxes that I pay and my precious time aren't enough? I'll take their six dollars and buy me a six pack! )
BC: So you'll be at the game Sunday, Abuelito? It might be a tad nippy, be sure to dress accordingly.
Abuelito: Una bafanda, un "Lipton cup-a-soup", y mi botellita (he taps his coat pocket, where he seems to have a flask). Que se venga el pinche norte y los pinche Chiefs! ( A scarf, a Lipton cup-o-soup and my little bottle. Come on winter and come on Chiefs! )
BC: Thank you, Abuelito... and please don't forget my bobblehead! ( I say as I walk briskly out of the room.)
BC: Abuelito, how was your trip to Dallas? The Cowboys pulled off a big win against the Chiefs, were you impressed? How was the weather? Were you able to find a Jerry Jones bobblehead?
Abuelito: Estaba deaquellas...si...estaba fresco...aqui esta tu pinche bobblehead y tambien tu otro regalo. ( It was great, yes, it was cool, here is your bobblehead and another presant.)
BC: A football ! Signed by Bill Parcells and Jerry Jones ! Is it real? How did you get this?
Abuelito: Connectiones! Tengo un camarada que tiene un camarada que tiene un tio que tiene un sobrino que se esta echando una Dallas Cowboys Cheerleader.
( Connections! I have a friend that has a friend that has an uncle that has a nephew that is dating a Dallas Cowboys Cheerleader. )
BC: Really?
Abuelito: Nombre, estoy jugando, pendejo! Mi nieto se perdio en Texas Stadium y Jerry Jones se dio quenta. Nos dijo que espradamos en su "luxury box" asta que acabada el juego y despues le dio la pelota a mijo. ( Just kidding, boob! My grandson got lost at Texas Stadium and Jerry Jones found out about it. He told us to wait in his luxury box until after the game. Then he gave my grandson the football.)
BC: That's great...but...why are you giving it to me?
Abuelito: Le cambie la pelota por una raspa! Como lo ves? Chiquio loco! ( I traded him a snow cone for the football! How about that? Crazy kid! )
BC: I get the feeling that you planned this, Abuelito!
Abuelito: Es verdad que le dije a mijo que si se perdiera, que llorada como si lo estaba siguiendo la llorona...y pedir a Jerry Jones! ( It's true that I instructed my grandson that if he got lost, to scream like the crying woman was after him...and to ask for Jerry Jones!)
BC: That was pretty cruel Abuelito, I hope that you didn't scar him for life.
Abuelito: "Scar him for life?" Le encanto la pinche "luxury box"! Vimos la mitad de el juego com toda la cerveza, sodas, dulce y comida que queriadamos! ( Scarred for life? He loved the luxury box! We saw half the game with all the beer, soda water, candy and food that we wanted! )
BC: In that case, thank you for the football. Can the Cowboys get into the playoffs?
Abuelito: Los juegos contra los Eagles y los Chiefs son buen ejemplos de la manera de ganar! Tambien tienen que usar a Marion Barbar mas! ( The games against the Eagles and the Chiefs are good examples of how to win games. They also need to use Marion Barber more! )
BC: Can the Cowboys beat the Redskins, Abuelito?
Abuelito: Como chingados que no? Traigan los pinche indios locos! ( Of course! Bring 'um on!!! )
Abuelito: Apaga la luz. Ya se acabo el pinche pode! ( Turn out the lights, the party's over! )
Cowboys 24 Panthers 20
Abuelito: Donde estabas la semana pasada, loco? ( Where were you last week? )
BC: I'm sorry Abuelito, I was a tad distraught over the Cowboys embarrasing loss to the... I can't even say their name.
Abuelito: Yo si puedo... los PINCHE REDSKINS!!! No te abuetes pendejo, los Cowboys tienen una chansa pequena. La linea jugo bien contra los Panthers y Julius Jones al fin enseno corazon ( I can... the FREAKING REDSKINS!!! Don't give up, the Cowboys still have a small chance. The line played well against the Panthers and Julius Jones finally showed some heart. )
BC: I guess Bill Parcells' warning that this year was a rebuilding year came to fruitation. Perhaps the expectation of Cowboys' fans was a little premature but with all the talent that they appear to have, how can they be blown out of a game 35 to 7? Could it be that they were overconfident?
Abuelito: No creo yo que tenian mucha confiansa. Los pinche Redskins fuedon demaciado contra los Cowboys y para decirte la verdad, los cabrones estan jugando como los mejores equipos. ( I don't believe that the Cowboys were overconfident. The Redskins were too much for the Cowboys and to tell you the truth, the f**kers are amoung the best teams in the league.)
BC: The Cowboys have had bad seasons before but this season is really hard to take. Those teams weren't expected to do good because the teams weren't good, this one is. I guess we'll have to wait and see which team shows up to play in St. Louis.
Abuelito: No te abuetes chingon! No se acaba asta que cante la marana! ( Don't give up. It ain't over til the fat lady sings! )
Abuelito: Ahora si, " Turn out the lights, the party's over!"
BC: Well Abuelito, this season started out with such great promise and ended with the proverbial THUD! Bill Parcells will return and there is talk of building for the future. But, is that possible with Drew Bledsoe, Keyshawn and Terry Glenn reaching their twilight, in football years, that is.
Abuelito: La futura es ahora! Bledsoe enseno que valle madre con un poco de pression. Necesitan otro quarterback! Tambien otro recevidor, pero no Terrell Owens! Y la linea offensiva, como lo digo... NO VALEN NI UNA CHINGADA! ( The future is now! Bledsoe showed that he can't play under pressure. We need another quarterback! Also another reciever, but not Terrell Owens! And the offensive line, how can I put this... they stunk up the place! )
BC: Parcells has a penchant for sticking with "his guys". Perhaps a couple of linemen would cure what ails us?
Abuelito: Si, Y yo tengo propiedad en Las Vegas. Estas interesado en un compro? (Yes, and I have some property for sale in Las Vegas, are you interested?)
BC: Allrighty then... I guess we'll have to circle draft day on our calender. Will you be available to share with us your expert analysis?
Abuelito: Vale mas que lo creas...estupido! ( You better believe it....Genius! )
Post-Season Abuelito Analysis
BC: Abuelito, do you think that Vince Young will still be the first quarterback taken in the draft?
Auuelito: Ese pendejo! La pinche Wonderlic lo mando a la chingada! Alamejor los Cowboys lo levantan en la pinche "fourth round"! ( That dummy! The Wonderlic might have messed him up! Maybe the Cowboys can pick him in the fourth round! )
BC: Would you look for them to take a good receiver with their first pick?
Abuelito: A ver que pasa joven... a ver que pasa. ( We'll have to wait and see what happens.)
Say it ain't so, Jerry! Say it ain't so... not T.O.!
BC: Abuelito, the unthinkable has happened! The Cowboys now have the most selfish, egotistical and disruptive force in the NFL, and I'm not talking about Terrell Owens. Jerry Jones, haven't you learned that there is no T.O. in TEAM? OK... I guess what's done, is done. We can only hope that our favorite team doesn't implode like last years Eagles. It's just that Bill Parcells prefers a ball control offense that relies mainly on the run. Where does that leave the ball hogging T.O.? Perhaps Jerry has more influence over Parcells than he cares to admit and has plans to turn the 'Boys vanilla offense into a high powered one! Whats the point of having a big gun if you can't shoot it? Your thoughts?
Abuelito: Con eso, lo dijiste todo. Cuando se pone cabron, los cabrones toman! ( That just about covers it! When the going gets tough, the tough...drink! )
2006 DALLAS COWBOYS FOOTBALL SEASON
BC: It's finally football season again Abuelito. The Cowboys may have lost some fans this year with the acquisition of Terrell Owens. At first, I was a little peeved with the Cowboys organization for taking a chance on the troubled wide receiver, especially since he celebrated on the star that sits smack dab in the center of Texas Stadium. But is this game about loyalty? Perhaps in the old days, but these days, it's all about MONEY! Team owners pay atheletes millions of dollars to play a GAME! Now, the NFL is saying that the only way that we will get to see the Cowboys play the Falcons is if we sign up for the NFL Network! The NFL must not be making enough money off of television commercials, stadium royalties and merchandising! What a bunch of CACA!
ABUELITO: Calmate mijo! Nunca te a visto asi.
BC: How can people be so greedy? I have Cowboy's caps, t-shirts, have been to a
few games (and paid $6.00 for a beer) and sat and watched commercial after commercial during a Cowboys telecast. I'm sure that millions of people do ten times that! On the day that the Cowboys play the Falcons, every Cowboy fan in America should go out to the park, the lake or just your backyard, to barbeque and forget about football for one weekend. The NFL has no problems sticking it to the fans, why not show the NFL that without fans there would be no NFL. Back to loyalty, the Cowboys organization has shown that loyalty is as foreign as the moon. Jerry Jones showed no loyalty to Emmitt Smith or to George Teague, the Cowboy that knocked T.O. off of the star, on that infamous day! George Teague should have been put in the Ring Of Honor at Texas Stadium! The only people that seem to be loyal are the fans! I have been a fan too long to quit following the 'Boys. How about you, Abuelito?
ABUELITO: Los Cowboys, cervezas bien frias y los camaradas. Que mas quieres? ( The Cowboys, cold beer and friends. It don't get any better than that!)
Jaguars 24 Cowboys 17
BC: Well Abuelito, after months of anticipation and nothing but golf on television the Cowboys' season started out with the proverbial splat, what a tremendous letdown! How on earth could a team with this much talent play so miserably?
Abuelito: Mucho gusto a ver lo a usted tambien, joven! No pueden ganar cuando pinche Bledsoe tira tres pinche interceptiones! Mi camarada Dan Cook me pregunto la misma cosa... ( It's nice to see you again too! The Cowboys can't win if Bledsoe throws three interceptions! My buddy Dan Cook asked me the same thing...)
BC: Dan Cook? The legendary San Antonio sportscaster? The columnist for the Express News? The man who coined the phrase " It ain't over 'til the fat lady sings"?
Abuelito: Si, chiquio! Se te abren los ojos como un guerquio en una tienda de dulce! ( Yes, youngster! Your eyes open up like a kids' in a candy store! )
BC: You can't possibly know Dan Cook. He's older than the moon...
Abuelito: Orale pendejo! Jugabamos futbol en las calles de chiquios. Nuestros padres pistiaban juntos! ( Watch it, fool! We played football in the streets and our parents drank together! )
BC: I'll give you the benifit of the doubt, but if you don't mind I will reserve judgement for later.
Abuelito: Creas lo que creas pero es lo que es, panfilo! ( Believe what you want to believe, but it is what it is, nincompoop! )

He says, as he is obviously getting irritated with my disbelief- BC
BC: Alrighty then... back to the Cowboys. A quick recap: First the Cowboys acquire T.O. ,which by the way, seemed to stand for "Time Off" since he sat out most of the pre-season. Then they take Bobby Carpenter, a linebacker, ( which they have an overabundance of ) in the draft, when they obviously needed an offensive lineman. They also picked up Mike Vanderjack-ass who has been hurt and like T.O., has missed most of the pre-season. When questioned about his two missed field goals ( a 33 and a 32 yarder ) in the final preseason game, his reply was " I'll make 'um when they count". Finally, Parcells gets rid of Drew Henson. Parcells never seemed to like Henson or his inability to be a leader. There were several quarterbacks still available when the Cowboys first pick in the draft came around! It seems like visions of granduer have fallen short and the only thing that we can be thankfull for is that Terrell Owens didn't disappoint...yet!
Abuelito: Hay varias escusas. Peo al fin, todos los cabrones tienen que jugar mejor, especialmente pinche Bledsoe! ( There are lots of excuses, but the bottom line is, they all need to play better, especially Drew Bledsoe! )
BC: Up next, our archrival, the Redskins!
Abuelito: Que chinga le vamos a poner. Ya hasta las prevo! ( We'll beat them silly! I can already taste those cold brewskies! )
BC: HOW 'BOUT THEM COWBOYS! Abuelito, are you O.K.? You look kinda rough.
Abuelito: Pinches juegos de noche! ( Stinking night games! )
BC: You obviously partook of the grape. The Cowboys had an exceptional game. The offense kicked butt, led by Drew Bledsoe, Terry Glenn, Julius Jones, Anthony Fasano and the inspired play of the offensive line. T.O. and Vanderjagt came through as promised and I believe that T.O. showed a lot of heart in his performance. He broke his finger at the start of the game and preceeded to become the highest paid decoy in NFL history.
Abuelito: Si, es verdad. ( Yes, this is true. )
BC: I feel your pain, sensei. Would you like a cold compress?
Abuelito: Pendejo! ( Dumb grasshopper! )
BC: The defense, namely Roy Williams and Terrance Newman shut down Santana Moss and showed that they are a force to be reconed with!
Abuelito: No se si los Cowboys estan perrones o los Redskins valen madre pero de a cincho que su escusa va ser que no jugo Clinton Portis. A todos modos los Redskins me la pel... ( I don't know if the Cowboys are great or the Redskins are sorry but the Redskins will probably use the " We didn't have Clinton Portis" excuse! )
BC: Abuelito! Please try to control your emotions. Perhaps you should try Chanting, as I have. It really has a calming effect.
Abuelito: Que??? Chanting? Tu deveras estas chisquiado, sonso! ( What? Chanting? You are cookoo! )
BC: The Cowboys have a bye next week, which is good since T. O. is injured. The Texans play the Redskins! Do you think that they can break their losing streak and stun the Redskins?
Abuelito: Los Texans no tienen ni un pelo en las nalg... ( The Texans don't have a single hair on their as...)
BC: Abuelito! Please try chanting! Huuummm, Huuummm, Hum...SLAP!!!
( Another slap to the side of the head. I should have seen that one coming.)
BC: Another great performance by the Cowboys wouldn't you say, Abuelito?
Abuelito: Si... jugadon bien pero todavia estoy enojado que no mas le dieron cinco juegos a el desgraciado Albert Haynesworth! Ese cobarde le piso la cabeza a Andre Guorde, y lluego el cullero se salio del juego enojado! Ese cabron no tiene derecho de jugar futbol professional, deve de estar en la pinta! ( Yes they played well but I am still mad that the NFL only gave Haynesworth a five game suspension! That coward stepped on Guorde's head and he left the field angry! That thug has no right to be playing pro ball, he should be in prison!)
BC: ( I think recommending chanting may be out of the question ) It was a malicious and deliberate foul and hopefully impressionable kids everywhere will see this as an example of what NOT to do.
Abuelito: Pinche Haynesworth! ( Rotten Haynesworth! )
BC: Back to the game, T.O. was the big story of the week with his broken finger and his alleged suicide attempt.
Abuelito: Nadien quiere a T.O. mas que T.O. Ese cabron no se va a matar solo. Una cosa es cierto, le encanta jugar futbol a T.O. Se quebro la mano, y en dos semanas esta jugando otra ves. Ese vato tiene pellotas de fiero. ( No one loves T.O. more than T.O. That guy wouldn't kill himself, but one thing is certain, that guy loves to play football. He broke his hand and two weeks later he was playing again. He has great testicular fortitude! )
BC: I agree, he is rather ballsy to play despite the risk of a defender possibly slapping him on the hand. Roy Williams did some slapping of his own. He can add a couple of tackles to his "greatest hits" DVD! I believe Vince Young found out that if you plan to run in the NFL you better have Michael Vick caliber speed.
Abuelito: Acuerdate que le jugadon a los Titans. El testiculo devedas, va ser contra los pinche Aguillas! Traigan los pajados cagados! ( Remember that they played the Titans before you start thinking Super Bowl. The real (testicle?) will be against the Eagles. Bring on those dirty birds! )
BC: Another heartbreaker, Abuelito. What did we do to deserve this? I guess we now know what kind of team we have, and it isn't a Super Bowl team, that's for sure!
Abuelito: Negativo, loco! Au contraire... sabemos que clasia de quarterback tenemos! Es sierto que Drew Bledsoe tomo muchos chingasos el Domingo, pero, sin presion todavia tiro tres interceptiones. Sus tiradas estaban cortas y bajas! Cuando el juega mal, los Cowboys pierden! Creo yo que deben de darle chansa a Romo contra los Texans. ( No way dodo bird! On the contrary... we know what kind of quarterback we have. Bledsoe took a beating but with little or no pressure he managed to throw three interceptions. His was throwing low and he was throwing short. When he plays bad, the Cowboys lose! I believe Romo should start against the Texans.)
BC: Abuelito, you've jumped on the Romo bandwagon?
Abuelito: Parcells mismo dijo que los mejores van a jugar. Ahora Bledsoe no es el mejor jugador. ( Parcells says that the best players will play. Today, Bledsoe may not be the best player. )
BC: The Cowboys had trouble with Jim Johnson's defensive scheme...
Abuelito: Defensive scheme??? Puro pinche blitz!!! El Cowboy coordinario offensivo pendejo no tuvo idea que las Aguillas jugaban asi o que? Al fin usaron la "shotgun" y "rollouts" pero ya Bledsoe estaba todo chingotiado! Los Cowboys perdieron por pendejos! ( All they did was blitz! Our offensive coordinator wasn't aware that this team blitzes or what? The Cowboys finally used the shotgun and rollouts but by then Bledsoe was all beat up! Stupidity cost them the game!)
BC: The defense didn't fare much better...
Abuelito: Como le ganas a quarterbacks como Manning y McNabb? Presion!!! Si no les das tiempo para tirar, esos culeros valen madre! Asi como Bledsoe. La diferencia es, sin presion, NcNabb quemo a los Cowboys y sin presion Bledsoe la cago! ( How do you beat a quarterback like Manning or McNabb? Pressure! If they don't have time to throw they aren't worth a darn! Like what happened to Bledsoe. The difference is, without pressure McNabb torched the Cowboys and without pressure Bledsoe played like crap! )
BC: The Texans visit Dallas Sunday. They always play the Cowboys tough. Do you think Bledsoe will play better?
Abuelito: De chincho! Pero el hoto tiene que jugar bien en todos los juegos no solo los faciles! ( For sure, but the fruitcake has to play well in all the games not just the easy ones! )
BC: O.K. Abuelito, I have to run. Dancing with the Stars is coming on and I am anxious to see who will get knocked off this week.
Abuelito: A LA CHINGADA!!! Yo tambien tengo que ir a wacharlo! ( Holy moly! I have to go watch as well! )
BC: Abuelito, I never imagined that dancing would be your cup of tea! Do you watch because of Emmitt?
Abuelito: Shale, pendejo! Me gustan las bailadoras. La Cheryl Burke esta buena! ( No, dumkoff! I like the female dancers. Cheryl Burke is good! )
BC: Any predictions as to who will win the dance competition?
Abuelito: Mi Raza, joven! Mi Raza! ( The Hispanic, of course! )
He's celebrating on the star again! That's O.K., this time he's a Cowboy!
BC: Abuelito, the 'Boys really put a whuppin' on the Texans!
Abuelito: Si, pero no comiensadon tan deacaeas! Los Texans le pusieron un susto a todos, de primero. ( Yes, but they didn't start out very well. The Texans put a scare into all of us! )
BC: The defense, except for the Texans first drive, looked like the Doomsday Defense of old!
Abuelito: Aguanta te las comperaciones! Acuerda que le estaban jugando a los Texans! Esos pobres quieren rectificar la pendejada de el ano pasado. Si no ganan ni un juego, dea chincho que ganan a Adrian Peterson. Alamejor no estan tan pendejos! ( Refrain from that comparison. They were playing the Texans! They probably want to make up for last years draft day blunder. If they don't win any games this year they will have the first pick in the draft and they could end up with Adrian Peterson ( of another defensive lineman )!!! Perhaps they are not as dumb as that little bull on their helmets!
BC: T.O. shown as bright as a Texas day. And he posed on the star again.
Abuelito: Es un payaso bien echo ese cabron, pero si sigue haciendo tushdowns, no cae pedo! ( He is a showoff but as long as he scores touchdowns it doesn't matter! )
BC: It was a good day for Cowboy fans. The Redskins and the Eagles both lost.
Abuelito: Que bueno que los Saints desmardadon la defensia de el pinche Jim Johnson, ese cabron me cae como una patada en las pelo... ( I was glad the Saints tore apart Jim Johnson's defense. I like that a-hole like a kick in the nut...)
BC: Abuelito, your language, please! Tony Romo threw his first NFL regular season touchdown!
Abuelito: Pinche Romo! ( Freakin' Romo! )
BC: I'm sorry, I thought you liked Romo?
Abuelito: Si, pero yo tenia el Siete - Sies. Con esa pinche tushdown me costo dos cientos bolos! Romo cara de tamal seco! ( Sure, but I had the Seven - Six. That touchdown cost me two hundred dollars! Tamale faced Romo! )
BC: The Giants should prove to be a better challenge next Monday night.
Abuelito: Vale mas que lo creas! ( You better believe it! )
BC: Well Abuelito, another agonizing defeat at the hands of superior football team. It seems that we can't win against the good teams in the NFL. It's unfortunate that the road to the Super Bowl doesn't go through Houston! It also seemed to me that Drew Bledsoe was set up to fail, how in the world do you have an immobile quarterback go under center at their own one yard line? Did the offensive coordinator even consider that Levar Arrington might be blitzing?
Abuelito: Quien sabe que estaba pensando ese pendejo! Tiene los sesos de un pinche sangcudo! Lo bueno es que al fin sabemos que necesitamos, otro pinche quarterback! Los que tenemos valen madre! Todos los demas equipos buscan quarterbacks buenos en la "draft" pero nosotros, niuna chingada, puro scrape! Ya asta Parcells me esta caindo suda! ( Who knows what that dimwit was thinking, he has the brain of a mosquito! At least we now know what we need, a quarterback! All the other teams look to the draft for a quarterback but us we get the scraps! Even Parcells' act is starting to get old! )
BC: You're not giving up on the 'Boys are you Abuelito. You have always been their staunchest supporter. From the very first kickoff, from the very first glorious touchdown, from their very first...
Abuelito: Calmate loco! Es pura fustratacion en mi parte! Quien mas puedo supportar? Los Texans? Estas pendejo! ( Easy bumkin, it's only frustration on my part. Who else would I support? The Texans? You're loony! )
BC: So do you think that the Cowboys will dismantle the powerful Panther defense? Do you think Marc Columbo will use Julius Peppers like an old dish rag?
Abuelito: SLAP!!! SLAP!!! SLAP!!!
BC: I take it, that with your silence ( and slaps to the head ), that that means no?
BC: Are you ready for Halloween, Abuelito? Will you be handing out candy to all the little ghosts and goblins?
Abuelito: Shale, voy ir a un poraso. Me voy a vistir de Don Juan! ( No way, I'm going to a party and I'm dressing as Don Juan.)
BC: Don Juan, the legendary lover???
Abuelito: Pendejo! Don Juan, mi tio en el lado de mi mama. Ese cabron esta orrible. ( Wrong, Pee Wee! Don Juan, my uncle on my mothers side of the family. That's one ugly dude! )
BC: That's not a real nice thing to say, Abuelito!
Abuelito: Estoy jugando, Quasimodo! Voy a patrullar las calles con mi linterna para hacer cierto que los ninos se diviertan con la certeza que ningun pendejo los vaya a lastimar! ( Just kidding, spooky! I will be patroling the streets with my flashlight to ensure that the children will have a good time and not worry about some idiot harming them! )
BC: Now that's a real nice thing to say, Abuelito! ( That's the stuff that heroes are made of !!! Godspeed Abuelito! )
BC: HOW 'BOUT THEM COWBOYS!!! It's amazing what a weeks worth of practice will do for a capable quarterback. Cowboy fans can once again rejoice!
Abuelito? Abuelito? SNAP! SNAP! ( I snap my fingers in front of my seemingly dazed compadres' face.)
Abuelito: Pinche juegos de noche! ( Stinking night games! )
BC: The Cowboys played well on both sides of the ball. Tony Romo was outstanding, Jason Witten showed his pro bowl form and Julius Jones and Marion Barber are as good a running combination as any in the league.
Abuelito: Si. (Yes. )
BC: Well said, Abuelito. Bill Parcells was in a loving mood after this win. He was kissing everyone in sight!
Abuelito: Pinche hoto. ( Funny guy.)
BC: I don't think there is anything wrong with a coach showing a little emotion, his players should see him as a compassionate man. I was concerned that Marion Barber should have shown a little more compassion and run out the clock instead of scoring with seconds left on the clock.
Abuelito: Quieres ver besos y juegos pacificos? En el boxeo, si no te defendes asta que suene la campana, te van a noquear a la chingada! Creo yo que todo no es como se mira! ( You want to see kisses and you don't want to see aggressive play? In boxing if you don't defend yourself until the bell rings you will get yourself knocked out! I don't think everything is as it seems! )
BC: Abuelito, I assure you that I have had more than one girlfriend!
Abuelito: Si le isquierda y la derecha! ( Sure, the left hand and the right hand! )
BC: I am hurt by your mean accusation.
Abuelito: Entonces amarrate los huevos y digame que te bese las nalgas! ( In that case, show some nuts and tell me to kiss your ass! )
BC: Alrighty then! Up next the PINCHE REDSKINS!!!
Abuelito: Sabes que, olvidate lo que te dije y deja los "pinches" para mi. Estaba jugando de tu sextualidad joven. Tu eres buena jente, no culero como yo! ( On second thought, forget what I told you, and leave the "pinches" to me. I was only having a little fun with you. You are a good man, not an a-hole like me! )
BC: Apology accepted! Will the Cowboys beat the Redskins?
Abuelito: Facil! ( Easily! )
BC: Abuelito, the Cowboys lost on a last second or should I say, a no second, field goal! What an unbelievable turn of events. The real killer was the fifteen yard facemask penalty. In my opinion, that facemask penalty was more the five yard variety. A five yarder would have put the Redskins out of field goal range.
Abuelito: Pinche referees cabrones! Tu sabes que estas en pinche Washington cuando pasa ese pedo! La mejor pregunta es, porque estabamos en esa posision? Pudas penaltias y mal jugamentos! Los Cowboys necesitan que le prendan una lumbre debajo de las nalgas, pero al fin parace que Parcells a perdido sus huevos! ( Rotten referrees! You know you are in Washington when things like that happen! The better question is, why were we in that position to begin with? Penalties and bad play! The Cowboys need a fire lit under their ass, but, it seems that Parcell has lost his eggs! )
BC: Is there still time to right this ship?
Abuelito: Si, pero Parcell tiene que serse perro gravo! ( yes, but Pracells has to become a mad dog! )
BC: The Cowboys have been playing great, and they have been playing not good enough, What team will show up for the Arizona game?
Abuelito: Historia dice que van a jugar bien, pero la problema es atituda, pura pinche atituda! Solo Parcells puede componer esta gran problema. Necesito una fria...estas pendejadas me dan ganas de tomar! ( History says that the Cowboys will play well but the real problem is attiude and this is a problem that only Bill Parcells can fix. I need a cold one...this stupidity is making me thirsty! )
BC: Hello Abuelito, the Cowboys played well again. How much of a feat was it to beat an Arizona Cardinals that seems pretty much discombobulated?
Abuelito: Dis...comolachingada??? Estas loco o comites conejo? Habla como la gente loco! Los Cardinales no fueron buen testiculo pero la semana que biene, AY CARAMBA! Los pinche Colts! ( Dis...com what? Are you crazy or did you eat some rabbit? Speak english knave! The Cardinals were not a good test but next week, AY CARAMBA!, the Colts! )
BC: If the Cowboys follow the trend they have established this year, they will lose to the Colts. Is there anything that Bill Parcells and the Cowboys can do to change their destiny and trounce the mighty Colts?
Abuelito: Si, pueden dicir dies mil Hail Marys y contributar cien milliones a la igleslia! Afuera de eso no tienen ni un resamiento! SLAP! ( Another slap to the back of the head, although this one seemed kind of lame. Perhaps the alcohol has usurped his otherwise formidable strength! )
CHALE LOCO!!! Tu destenia es lo que lo haces! Si se sacan la cabeza del culay, seguro que tienen chansa! ( Yes, they can say ten thousand Hail Marys and donate One hundred million dollars to the church! SLAP!!! Just kidding! Your destiny is what you make it! If they can get their heads out of their butts they might have a chance. )
BC: So do you think that the Cowboys will shock the world?
Abuelito: No te lleves, loco! Pero si iba apuestar, y si voy, mi feria esta con los Cowboys! Si no tienes fe no tienes nada! Vamos a la tienda para comprar un sies y despues para ser unos puestos. Tienes dinero? ( Don't be silly! But, If I was to bet, and I am, my money would be on the Cowboys! If you don't have faith, you don't have anything! Lets go to the store to buy a six pack and then to place a few bets. Do you have any money?)
BC: Abuelito! What a tremendous win for the Cowboys! They shocked the world, or at least, the football world! The Cowboys have to be considered Super Bowl contenders now, don't you think?
Abuelito: Calmate chico! Es cierto que jugadon bien los Cowboys, menos el desgraciado Vanderjac, ese cabron valle madre, pero tu sabes que un juego no hace una temporada de football! ( Calm down sonny! It's true that the Cowboys played great, except for that unlucky dog Vanderjac, but you know as well as I do that one game does not a season make! )
BC: But the remaining six games are to teams with a combined record of 27- 32 plus four of them are at home!
Abuelito: Todavia no has apprendido? Ningun juego es facil! Los Gigantes en Nueva York es un juego que puedemos perder facilmente. Y los Santos Y los Falcones tambien tienen gran pelotas! ( You still haven't learned? There are no easy games! The Giants IN New York is one game that we could easily lose and the Saints and the Falcons both have a big football followings! )
BC: Tony Romo seems to be the real deal. Parcells must have seen some promise in Romo, to keep him, instead of the overpaid Drew Henson after all these seasons. Does this mean that Parcells still has what it takes to coach in the NFL?
Abuelito: Obviousamente, los Cowboys jugadon bien por una rason o otra Y el juego contra los Colts apesta a puro Parcells de viejo. ( Obviously the Cowboys played well for one reason or another and the Colts game smelled of the Parcells of old! )
BC: Abuelito, will you celebrate Thanksgiving using the three F's, family, food and football?
Abuelito: Si las tres efes y la ve! ( yes the three f's and the "V". )
BC: The " V ", Abuelito?
Abuelito: Vironga! HA! HA! ( Beer! HA! HA! )
Abuelito: Dale un examen a la palabra Thanksgiving. THANKS, tenemos que dar gracia seguro, pero GIVING creo yo, es mas importante. Si le das a los que no tienen, te viene paratras mucho satisfacho. Yo le voy llevar Guajolote a los viejitos que viven en la esquina. Ellos no tienen familia ni modo de celebrar. ( Look at the word, THANKSGIVING. THANKS, of course, we must be thankful. Now look at the word GIVING, I believe this half of the word is most important. Giving to those that don't have, will bring you much satisfaction and perhaps that would start a trend. Wouldn't that be the greatest thing on earth? I will be taking some turkey to the old folks that live at the corner. They don't have family or the means to celebrate. )
BC: "Viejitos", wouldn't you fall under that catagory, Abuelito?
Abuelito: Orale pendejo! No me hagas que te pataleye las nalgas... otra ves! Comoquieras, el pinche nenito Emiril no tiene ni una chingada en mi! Me la pela! ( Watch it looney tune! Don't make me kick your ass...again. Besides that small fry Emiril Lagasse doesn't have anything on me! He can peel my potatos! )
BC: O...K... with that said, HAPPY (and safe ) THANKSGIVING Y'ALL !!!