Everyone has their favorite restaurant, movies, band etc... I thought it would be a cool idea to let everyone know my personal favorite things, Sorta give you my opinion / review of a few things. Everyone has an opinion some not as credible as others. Anyway, I don't have a whole hell of a lot of room to talk since one of my favorite movies happens to be Howard the Duck. It's not exactly gone with the wind, but then again, it wasn't supposed to be. So Awaaaaaaay we go!
In this column I am going to give you a few tips and potentialy good advice that I have learned from my journeys, experiences and from the good old school of hard knocks. Believe me, I have had to learn some things the hard way! But keep in mind what the great Bruce Lee once said, "Believe half of what you hear and none of what you see."
Home:
Remember to clean your home A/C filters frequently. Dirty filters are a bad thing!
Lawn and Garden:
If you trim your trees and bushes, this enables growth, since the extra moisture will allow the greenery to flourish skyward.
Automotive:
Change your automobiles' oil according to the owners manual. This is the lifeblood of your vehicle (While you're at it, check the air in the tires).
Financial:
Make a list of all purchases for one day and you will find that a lot of them will be unnecessary impulse buys. Go to the grocery store or Wal-mart with a list, and do not deviate. You will see some bigtime savings. Buying in bulk at Sam's will also save you money. Also, avoid conveinience stores as much as possible. One dollar? For bottled water? It's a whole lot cheaper at home.
Spiritual:
Prayer is good for the soul, but in order to make things happen, you gotta get off your knees and do something about it.
Life in General:
Guys, this may sound uncomfortable, but, have a colonoscopy done every ten years when you reach the age of thirty. You're in and out (sorry about the crappy pun )in a day and you don't feel a thing since they put you under ( damn, there I go again! ). Seriously, it could save your life!
Bobisims
( sayings, with a bit of a twist )
Before making any rash decisions, you gotta ask yourself , " Is the juice worth the squeeze?"
Burn me once, shame on you. Burn me twice , shame on me. Burn me three times and you'll be hearing from my attorney.
Aviod hangovers... stay drunk!
Two wrongs don't make a right , but, two Wrights made an airplane.
A frown is a smile turned upsidedown... and vice versa!
Here is the latest CD from the "fab four"...not the Beatles....the Mexican rock group, Mana. This is a live album recorded from their "Amar Es Combatir" tour. It contains a CD and DVD, they also added two new songs Si No Te Huibieras Ido and Arde el Cielo. Chalk up another hit...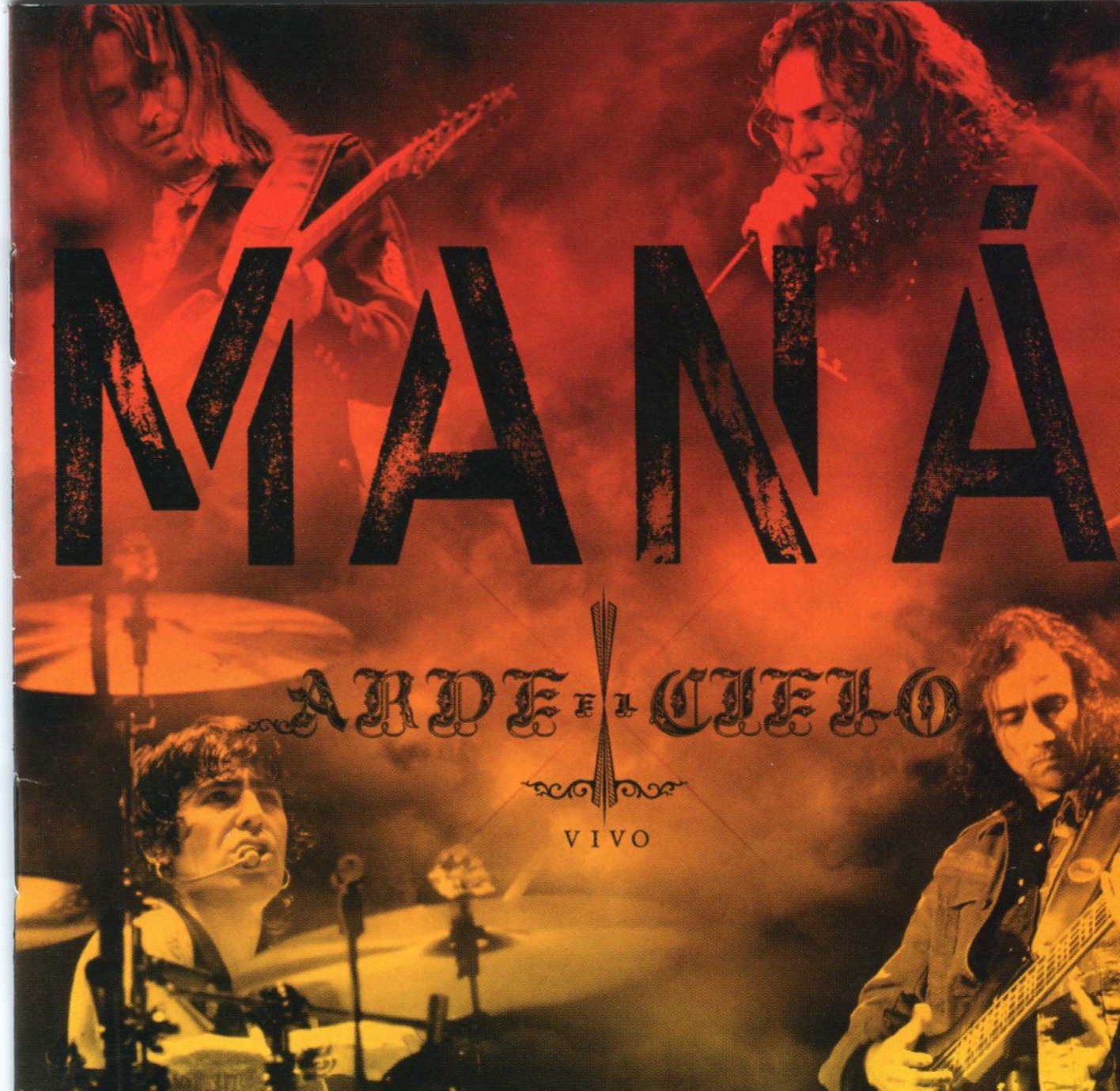 I was recently turned on to this Mexican band, Mana. I had never heard them before but had only heard of them. This is some GREAT stuff. They play a bunch of different styles, but primarily, they ROCK!
This CD is a greatest hits and after listening to it, I just had to catch up on what I had been missing. I now own ALL their CD's and I gotta tell you, these guys are the Beatles of Mexico. Ask anyone in the Latin world who Fher, Alex, Juan and Sergio are and the will tell you, "son, MANA!" I have a new appreciation for Mexican musicsions!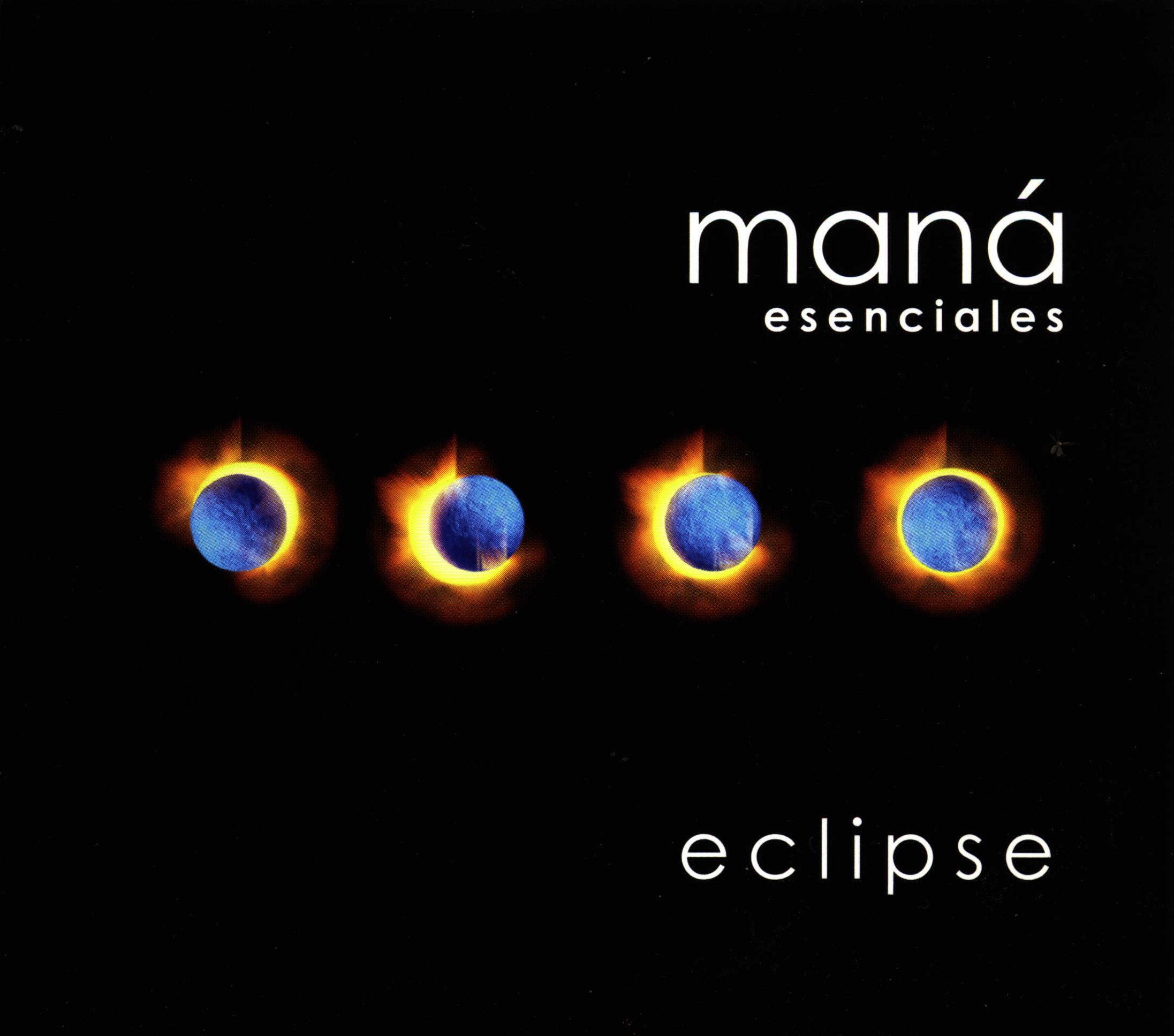 This is Mana's new CD. Add this one to your collection...it's Baddass!!!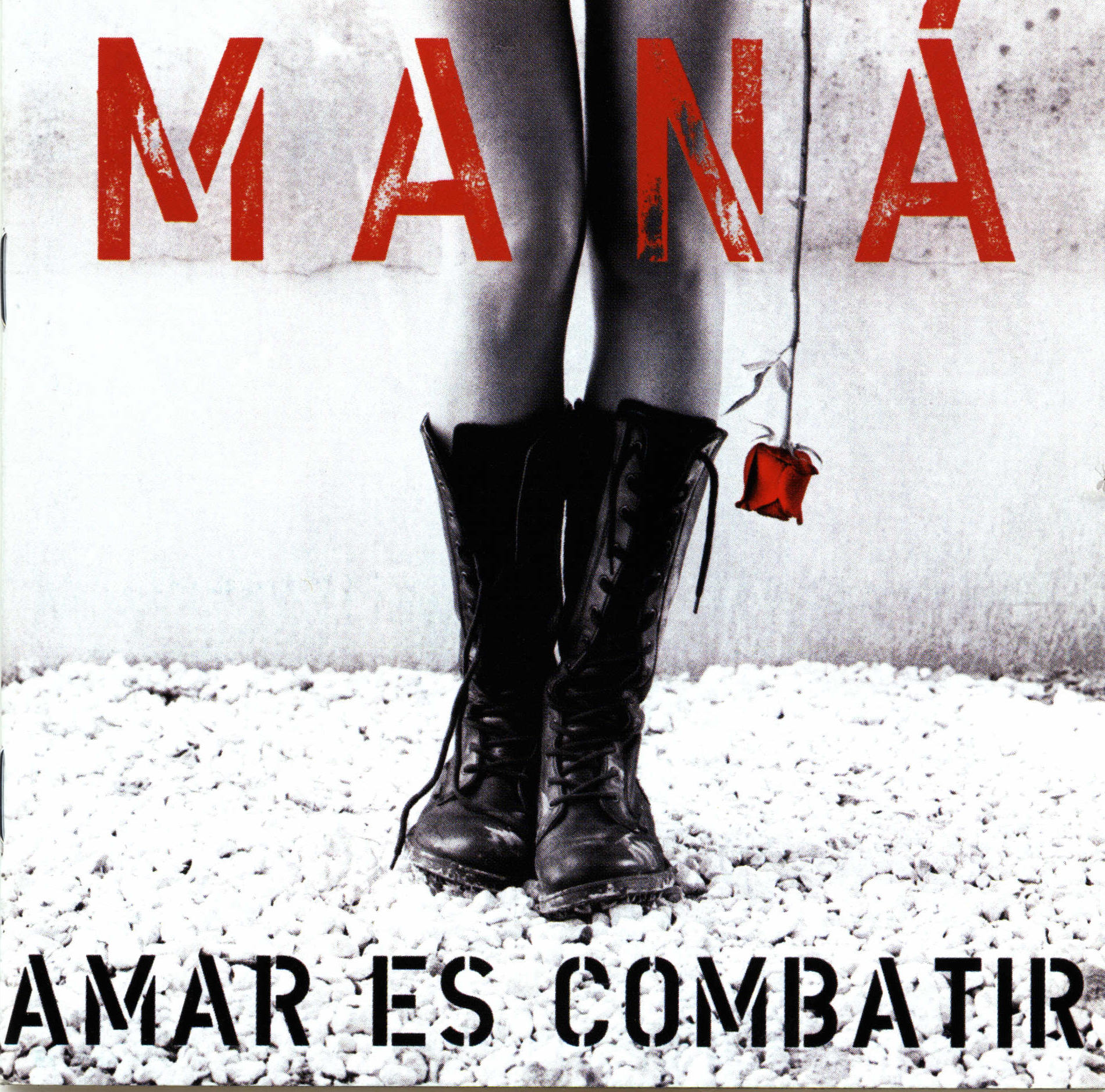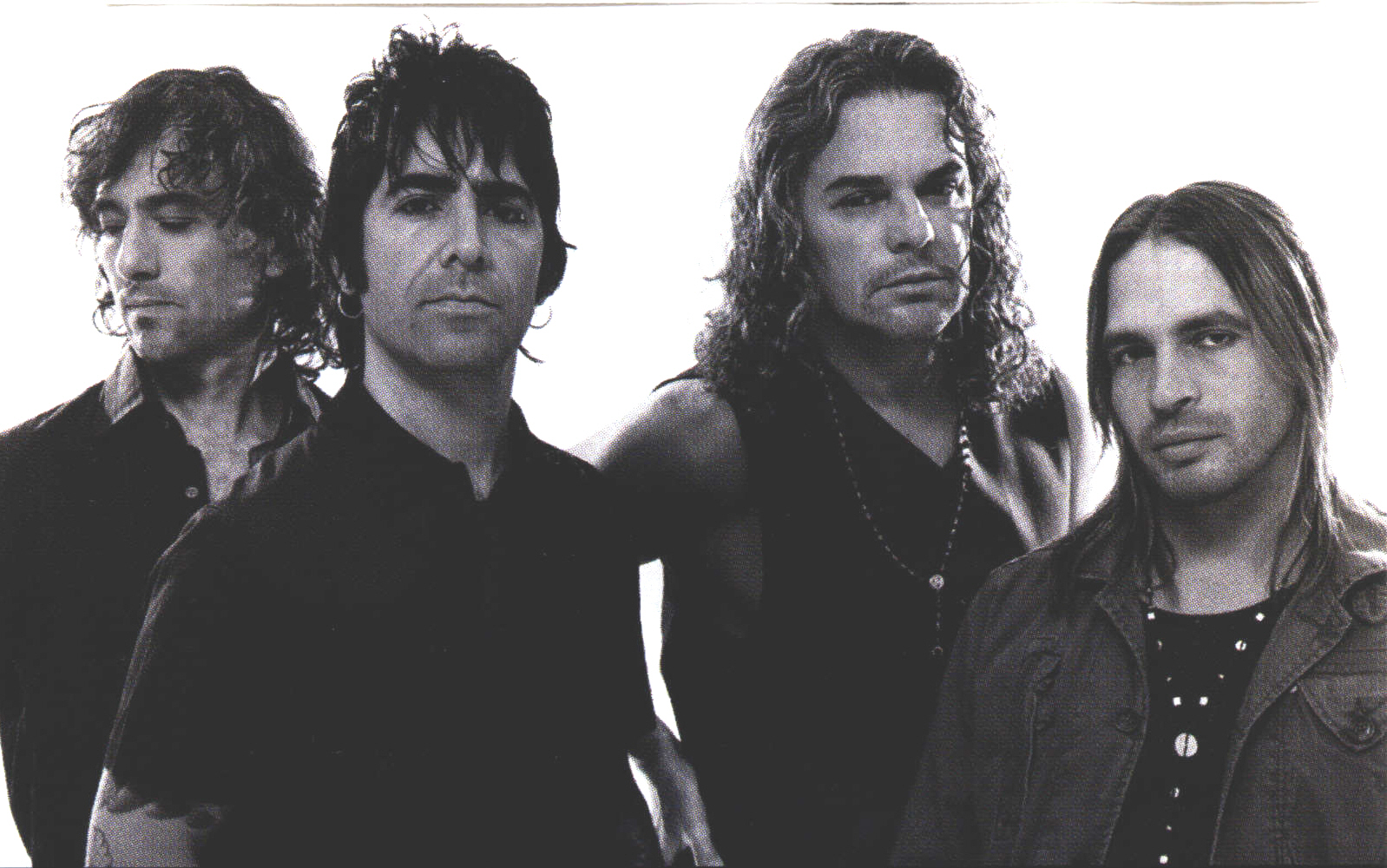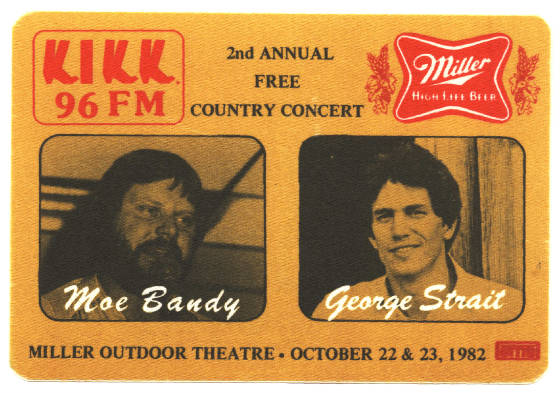 Check out this Backstage Pass to a concert featuring country legend Moe Bandy and an up and coming singer named George Strait. Hummm, I wonder if this Strait fellow will ever make a name for himself? This pass was given to me by my friend Richard ( Ricardo Lomas ) Hill. He used to play guitar for Moe Bandy and upon hearing George sing, he thought to himself..."this cats, not too bad". Good call...Ricardo!
On Tuesday night we had the opportunity to head south to Gruene, home of the world famous "Oldest Dance Hall in Texas"... Gruene Hall. The featured band was Two Tons of Steel who kicked ass on another one of their "Two Ton Tuesday"s. At intermission a friend's son's band performed. Their SKA style of music wildly entertained all of their fans and people like myself who heard them for the first time. If you've never been to Gruene Hall, especially on Tuesdays, you are really missing out!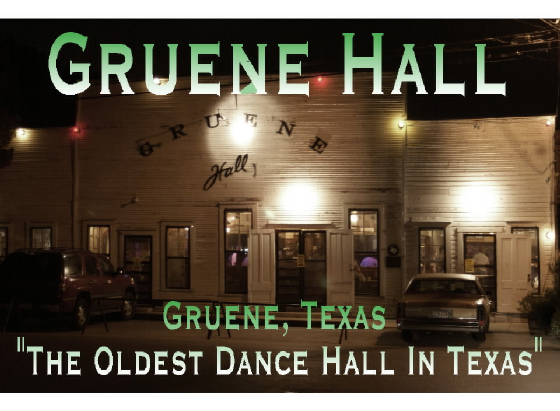 All ages, shapes and sizes enjoy some of the best music around!
You can wear shorts or you can wear boots. This country fan chose to wear both!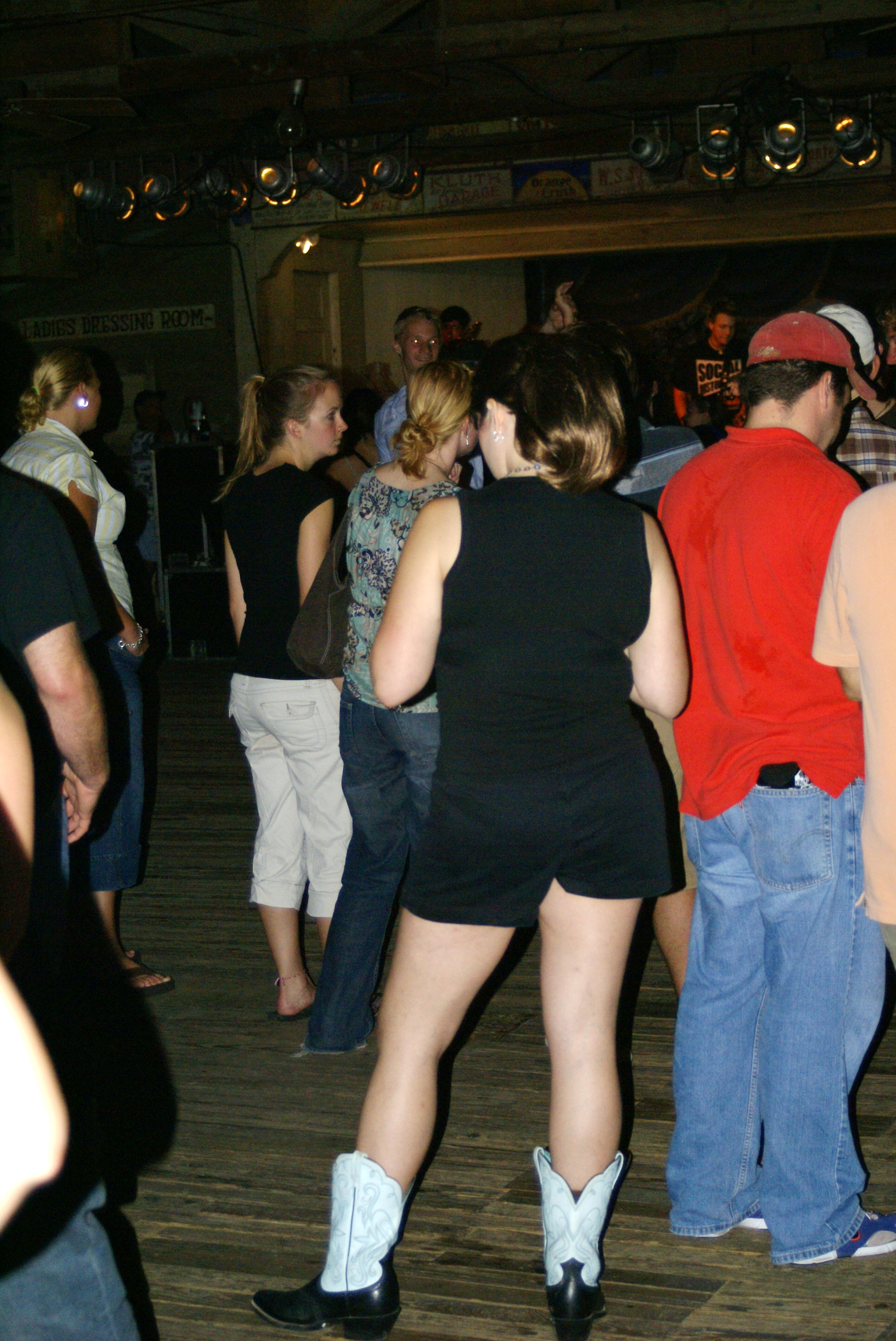 They don't call it the "Oldest Dance Hall In Texas" for nothing.... I heard that the ceiling fan in this picture was built by Orville Wright himself!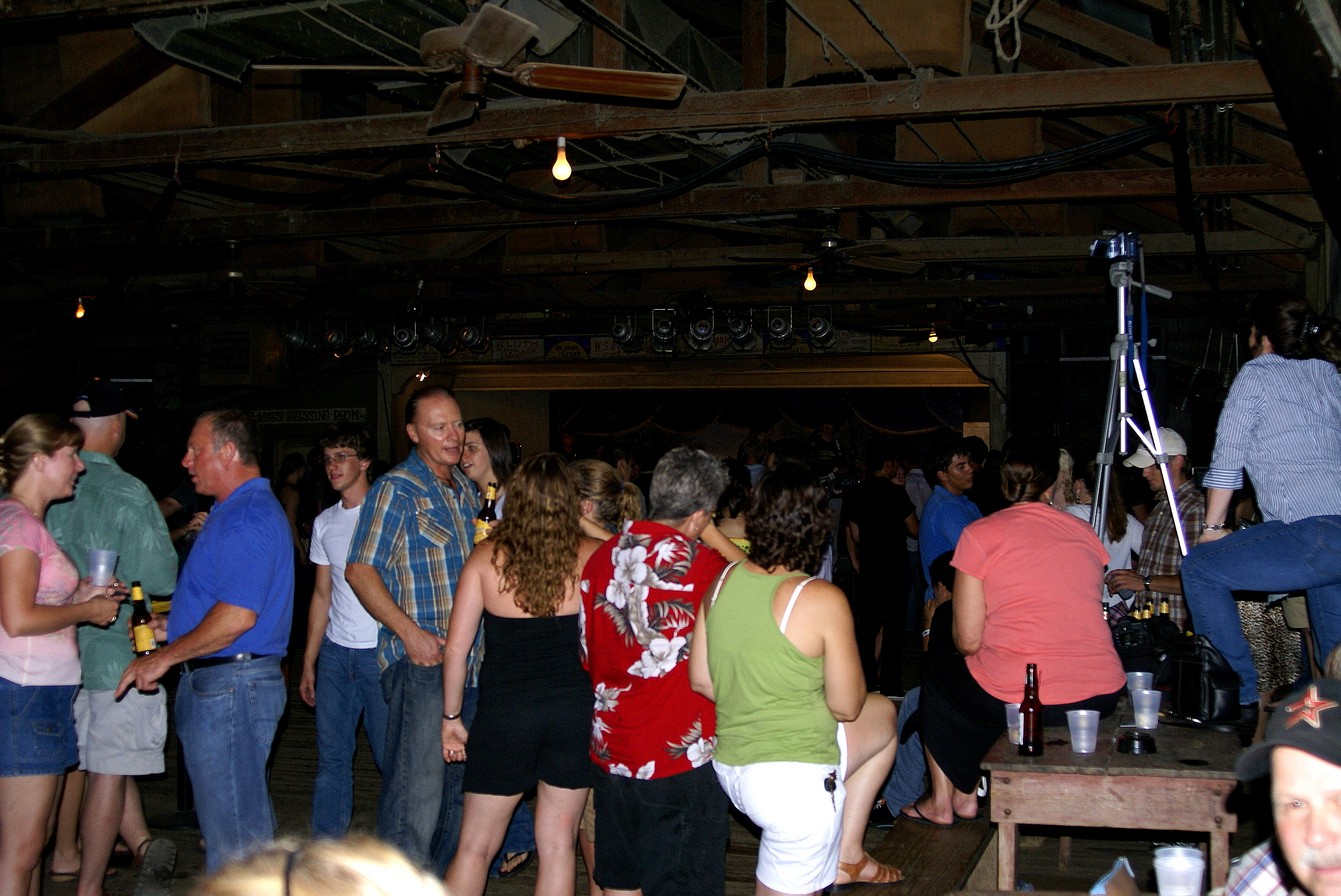 Here's a few pictures of the band Two Tons of Steel.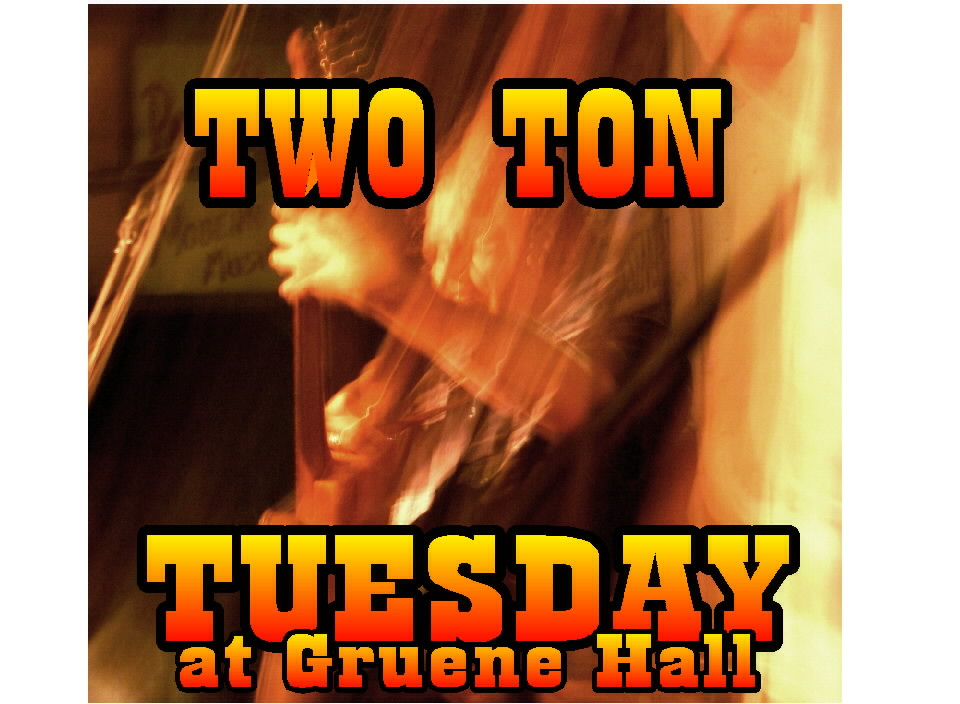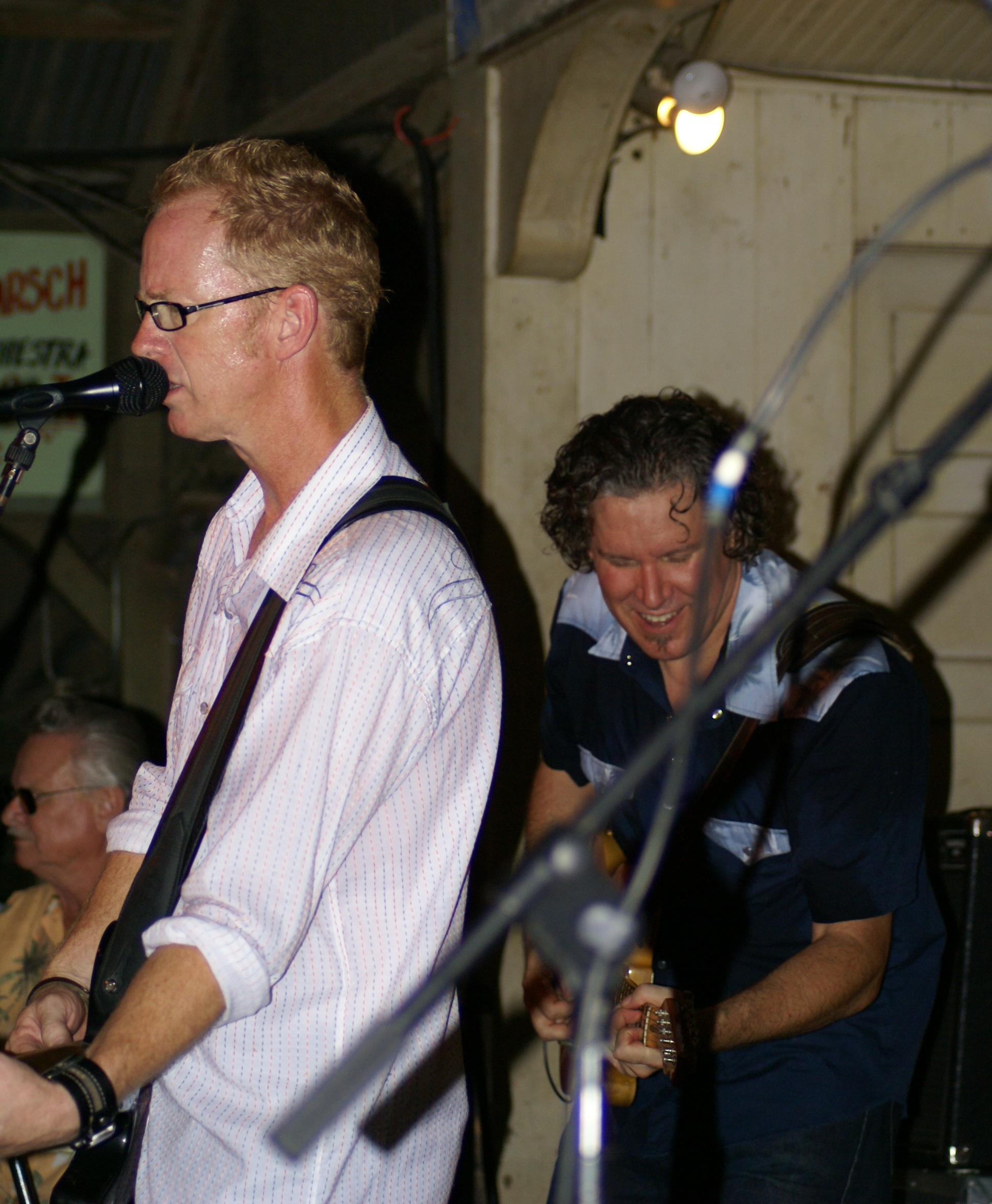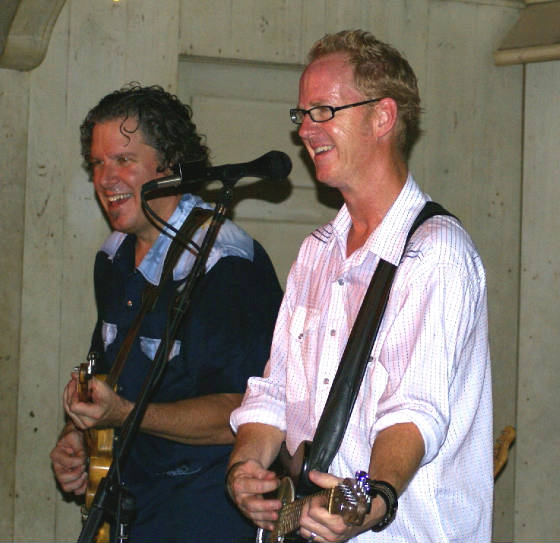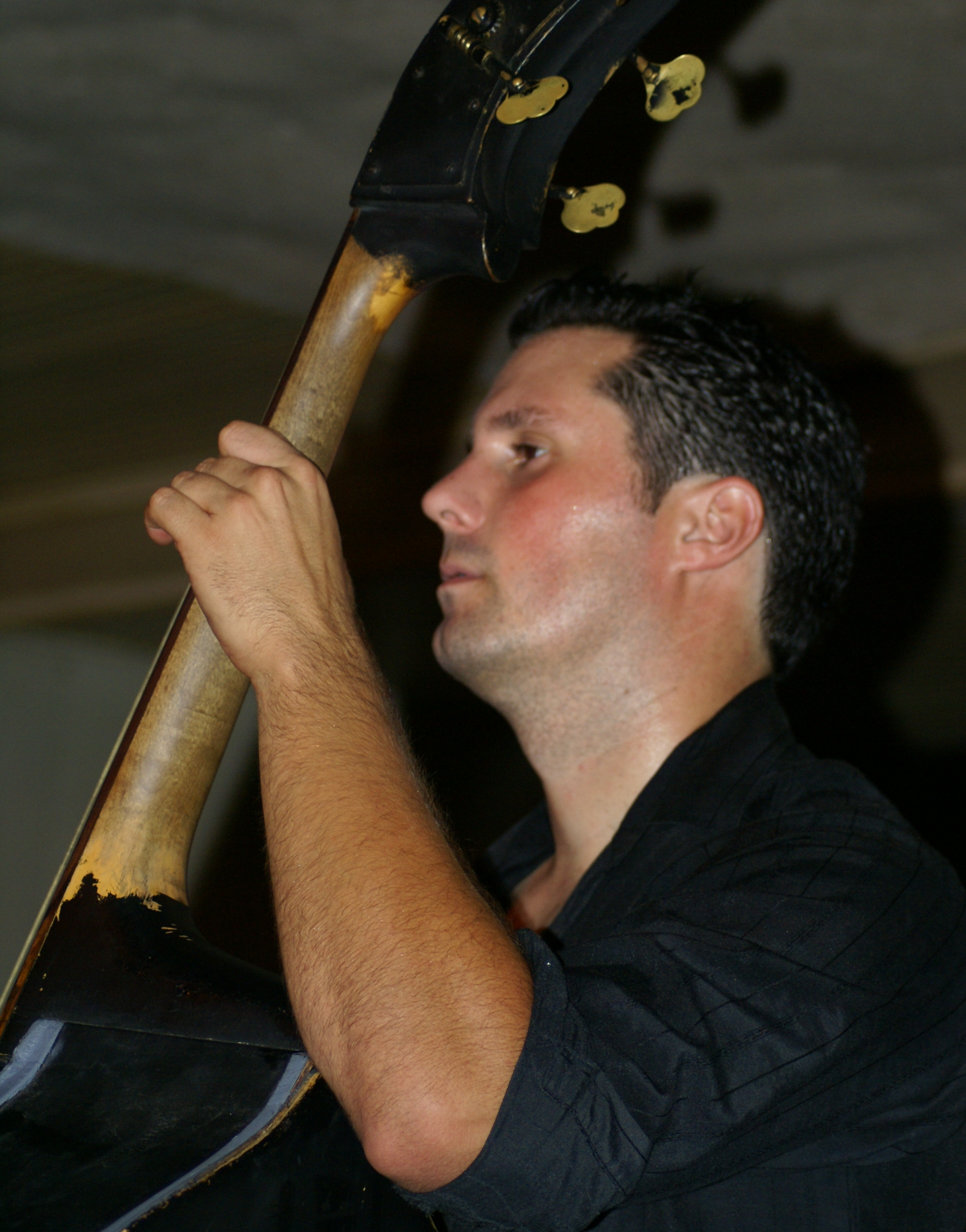 "Hey! Get him outta here!" I think the drummer saw me taking pictures.
Here's Travis Ford, my friend's son, on bass guitar. His SKA band ( I think their name is A New Low ) really rocked the house!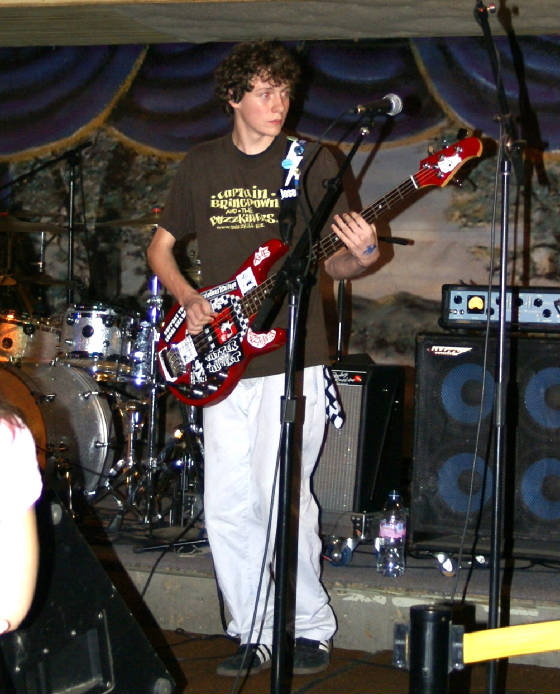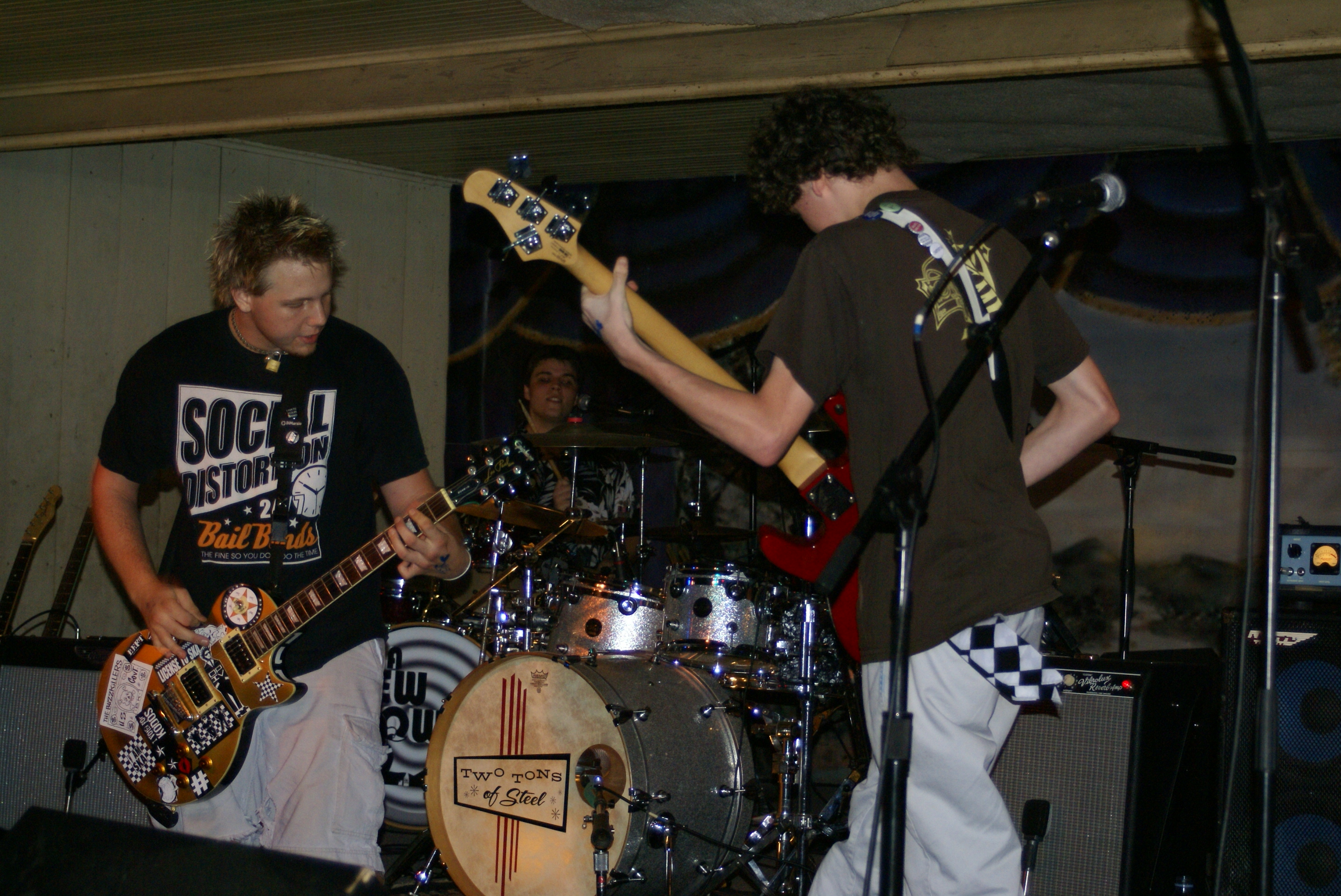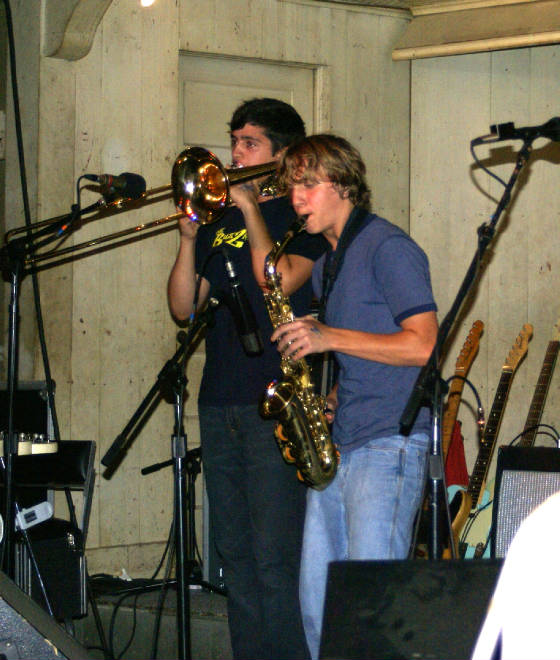 Tina, chuggin' down a cold one!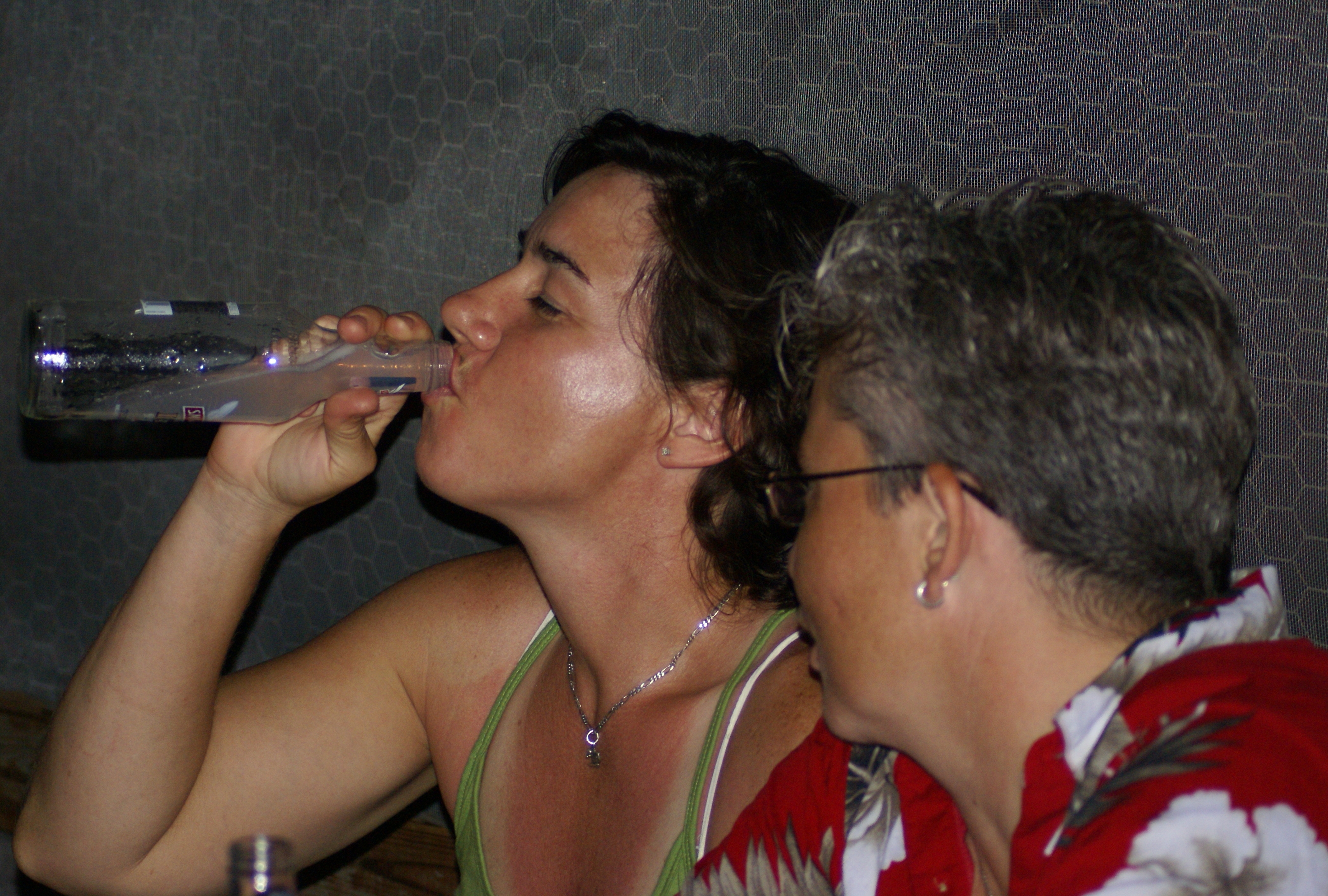 Travis' dad Steve Ford and his better half, Terri. Steve plays bongos er...congas for the band, Island Texas. Music must run in their blood. There is a vicious rumor that Steve once played congas ala Mathew Maconaughey at his college dorm, but only Terri knows for sure, and she ain't talkin'!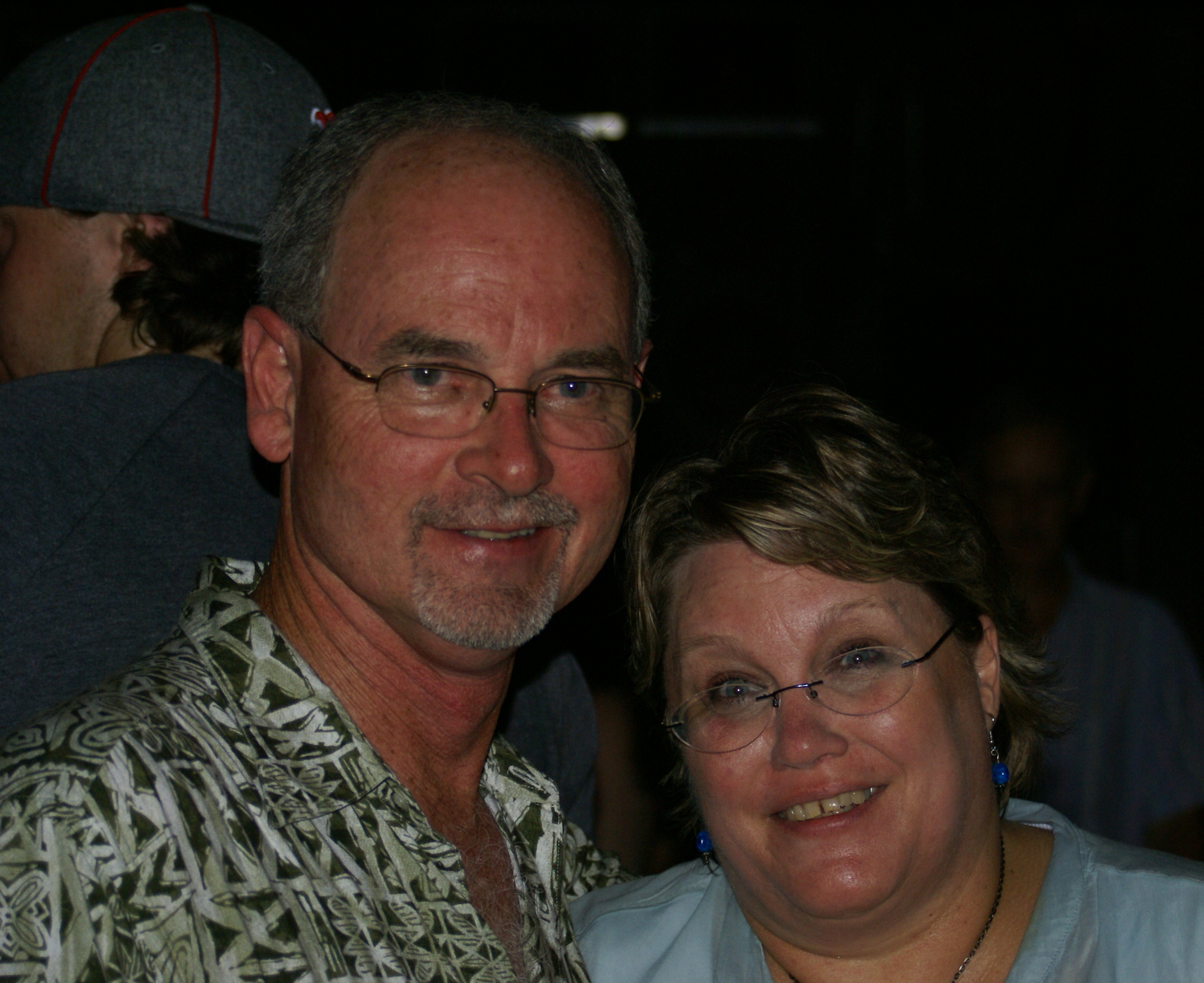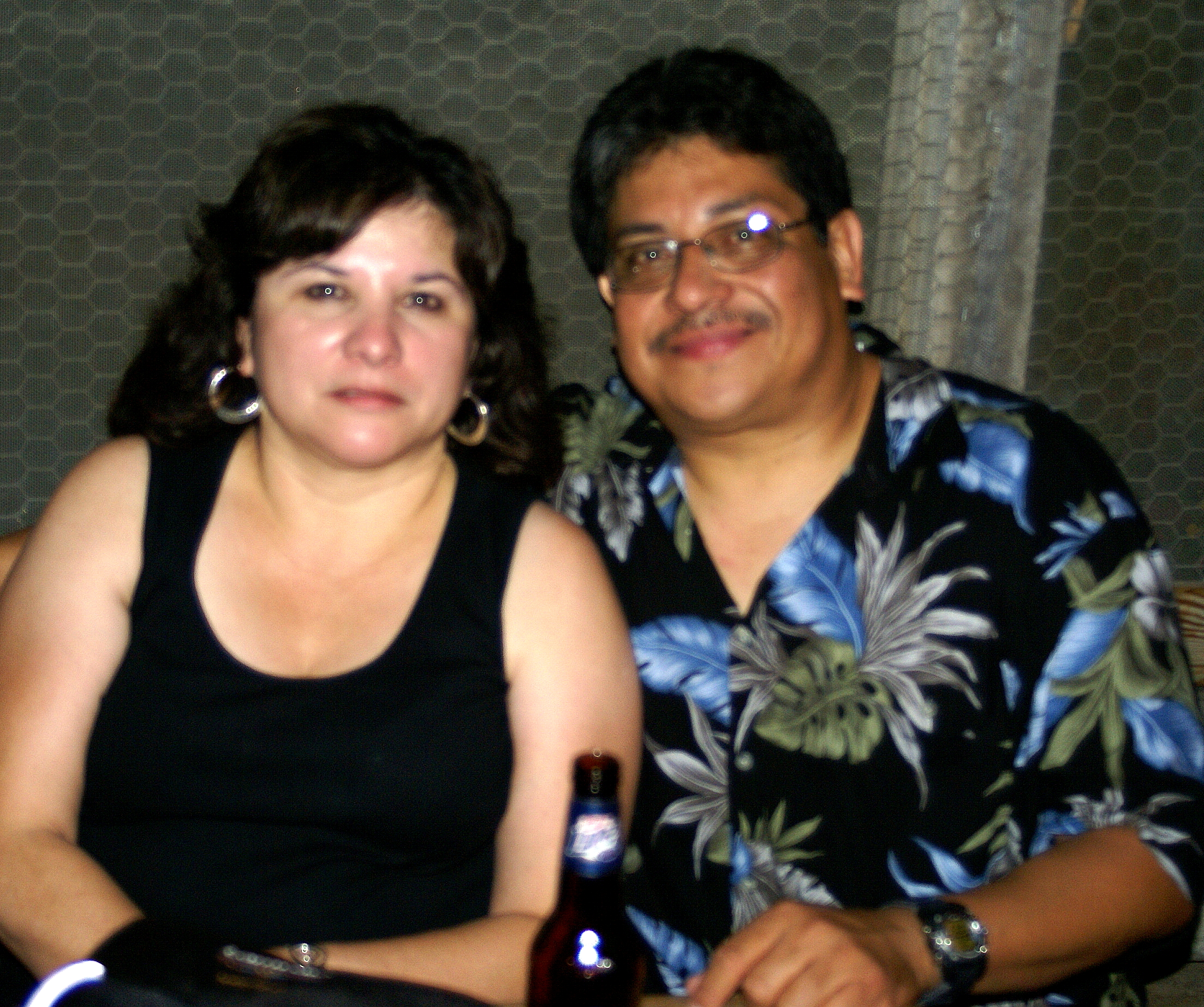 We had the pleasure of attending a concert by 5 time Grammy winner, Jimmy Gonzalez y el super grupo MAZZ on Friday night, 6-22-07. The concert was held at Santa Cruz Catholic Church in Buda, Texas. The entry was five dollars and you could take your own beer, nombre...callate!!! Buda is growing by leaps and bounds and a great time was had by all (especially super fans Leslie and Abel)...kinda makes you wish you were a Budanian!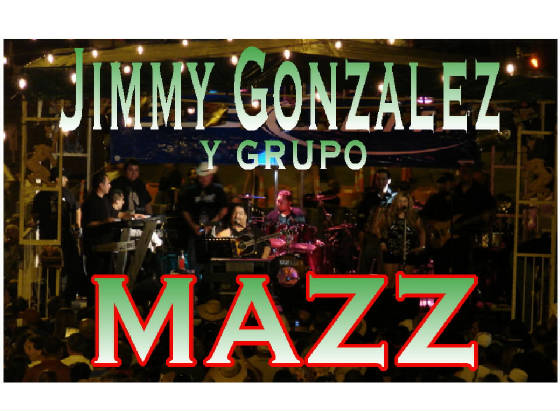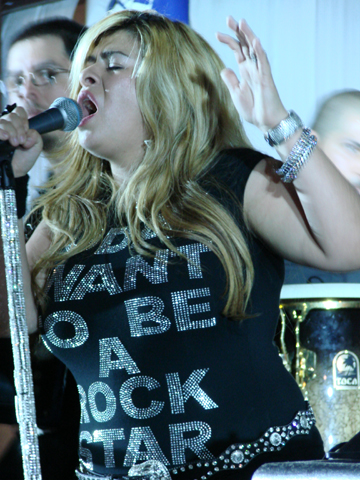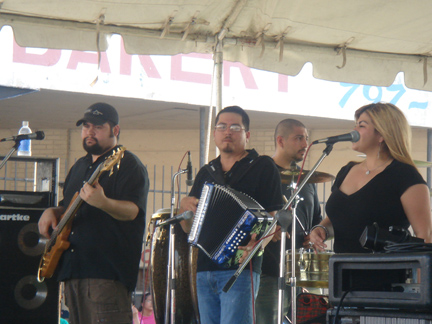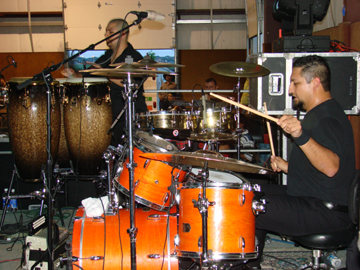 Great news Rock-n Roll fans!!! The new Velvet Revolver CD,
LIBERTAD
, will be released July 3rd and available at stores shortly thereafter! I saw them play the first single " She Builds Quick Machines" on Jay Leno the other night and they ROCKED!!!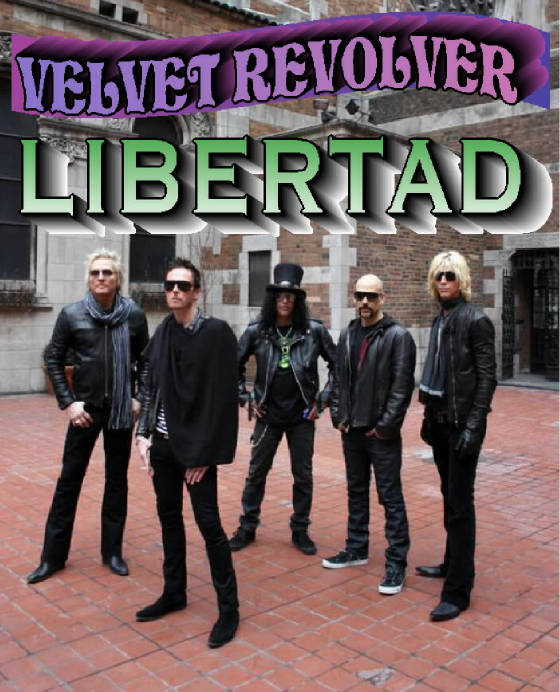 Vince Gill has a new CD out and it is a 4 disc set. This guy is obviously not in it for the money. He could have put out 4 CD's with all the music that this baby has. Let me tell you, it is GREAT! Each CD is aptly named for it's different style. He has... The Rockin' Record, The Acoustic Record, The Country & Western Record and The Groovy Record. At the moment, The Rockin' and the Acoustic records are my favorites, with the songs Workin' On A Big Chill, Love's Standin' and Cowboy Up being the one's that really stand out. Oh yea, and besides all of this for $23.00, it also comes with a booklet with all the words and some pictures in it. What a freakin' steal !!!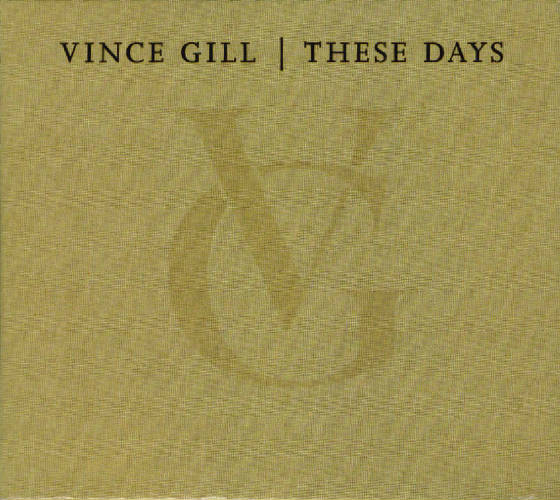 There have been hits and misses from the American Idol winners and Chris Daughtry has joined Kelly Clarkson as one of the winners. I'm pretty sure that when this guy was voted off ( and had lost to Katherine McFee ) that he was approached by several established bands looking for a new singer. He took a chance and chose to start his own self titled band. At the moment, it appears to be the wise decision. This is a great rocking CD from start to finish. At first listen, I thought to myself " these songs all kinda sound the same". Boy was I wrong! This CD ROCKS!!! If you ever watch American Idol, whenever a contestant gets the boot, the song that they play is Daughtry's song "Home". Rueben and Clay who???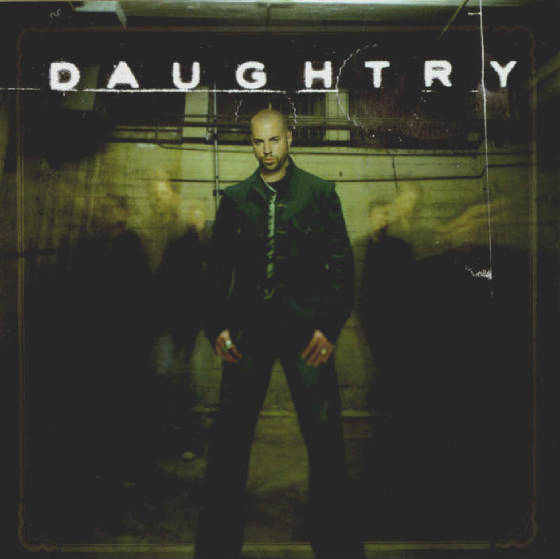 This is the latest from one of my favorites, the Red Rocker, Sammy Hagar. Him and Kenny Chesney must be hangin' out at the same beach since they both had tropical themed CD's out. Actually, Kenny wrote the song "One Sip" for Sammy and the Wabos. "Living On A Coastline", "The Way We Live" and "Sailin" are classic Sammy tunes. He and the Wabos also do two cover songs, Toby Keith's "I Love This Bar" and "Let Me Take You There" by either Gladys Knight or Chaka Kahn or the Ronnettes or some kinda' Motown band. This CD makes you wish you were sippin' on a Waborita on a beach in Cabo!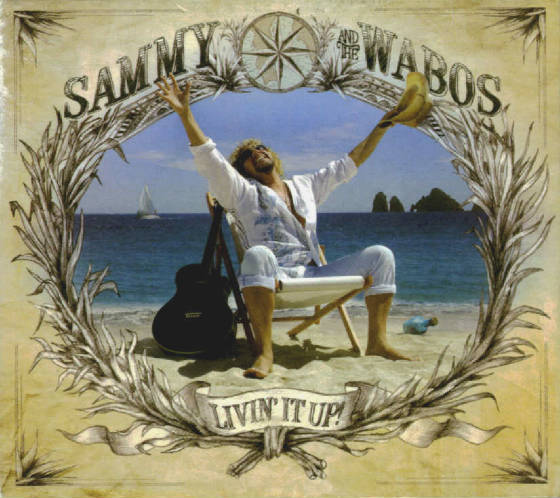 Yea, yea, this is an old CD. But it is one that I recently gave a listen to and also one that made me say to myself " I've already heard this CD". Thay's right... I have heard it, without owning it, because damn near all of the songs have been on the radio! This woman is definately the best thing to come out of American Idol, to date!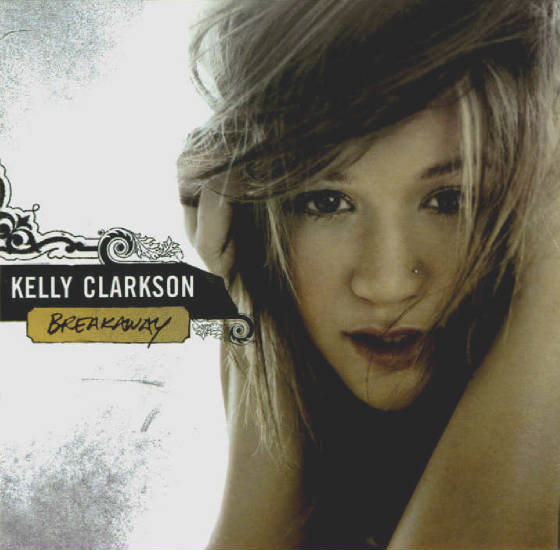 This girl has been around for several years and has actually put out a couple of CD's. They weren't even close the styles of this new one. Nelly Furtado has re-invented herself and come out a star. She is everywhere! The mega hits "Promiscuous", "Maneater" and now, "Say It Right" have put this star on the map! For us spanish speaking folks out there, she throws in a few goodies ... "No hay Igual" and "Te Busque". En mi opinion... es fantastico!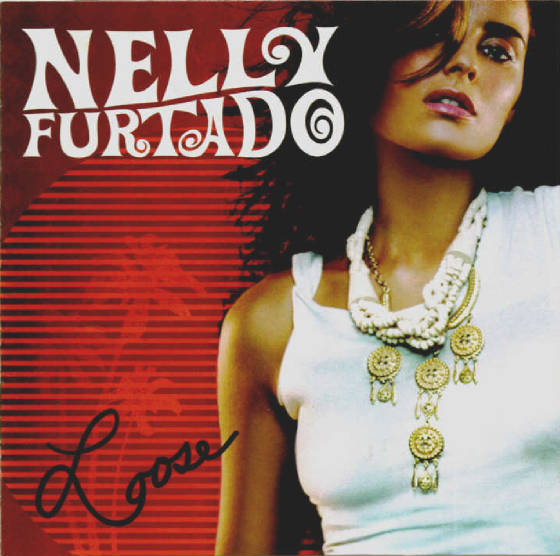 I have re-discovered this CD, along with an old Stone Temple Pilots CD, "Core". They both feature lead singer Scott Weiland. Good Rock albums! I'm showing my age...do we still call them albums?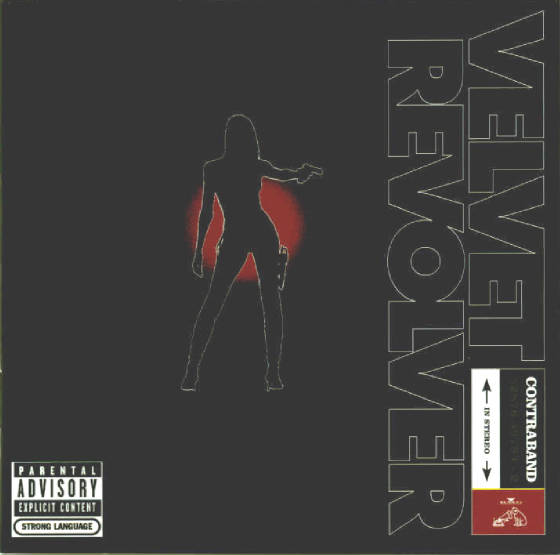 The Boys Are Back!!!
Thats right, Los Lonely boys are back with a new CD, Sacred. The Garza brothers prove that they ain't no one hit wonders. There may not be a super mega hit like Heaven on this CD, but it's still DAMN GOOD! The Stevie Ray and Santana influences are still evident but at the same time they are establishing their own unique sound that will undoubdtedly move you and groove you whether you're a "Texican" or not! They even sing a country song with Willie Nelson! My favorite song off the CD is "Texican style" but "One More Day" and "Memories" also kick butt! The video for the song "Diamonds" is out now and it was filmed at the guys' "Chop Shop" ( their automotive body shop ) in San Angelo. This CD was well worth the wait!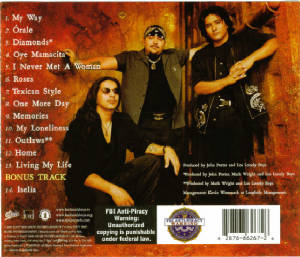 (below ) This is Kenny Chesney's new CD, The Road and the Radio . Check out the title song, "Livin' in Fast Forward", "Who You'd be Today" and "In a Small Town". Looks like another hit for this guy.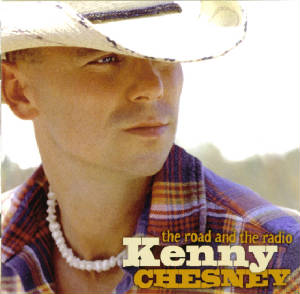 If you haven't heard of this guy, you musta been on the moon or on a deserted island for the last few years. Kenny Chesney has a new CD out and it is a little different than his past efforts in that this CD consists mainly of "Island Songs". That is, songs that remind you of being carefree on a tropical island. A couple of songs that stood out immediately were "Guitars and Tiki Bars" and "Boston". "Key Lime Pie" with it's innuendo throughout, at first seemed a little goofy but after a couple of listens, the chorus kinda stuck in my mind. This is a nice break from his normal "country/rock" as I like to call it, because of the rock guitars and heavy drums. If you're a Kenny Chesney fan you'll love this CD.
(below) This CD from the legend, B.B. KING is called "80" ( he turned 80 when he recorded this ). On it, he plays and sings with Van Morrison, Cheryl Crow, John Mayer and Eric Clapton. ( just to name a few!) If you like blues, this CD is for you!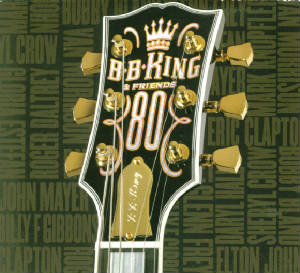 Here are two CD's by Keith Urban. Golden Road is the one that got him really noticed by the music world. He had done three CD's before that didn't quite generate the attention of this one (although there are a few songs off those CD's that I put on my " Bobby's Greatest Keith Urban Hits" CD). I saw the video to "Who Would'nt Wanna Be Me" on CMT and I was blown away by his musicianship and his enthusiasm. Golden Road is a great CD!
Be Here continues where Golden Road left off with the hit "Days Go By" and a couple of other good tunes, "You're My Better Half" and "Live To Love Another Day". Another winner by K.U.
Congratulations to Keith Urban 2005 CMA Entertainer of the Year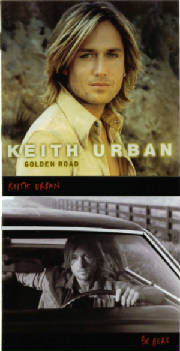 (below) Here is Brooks and Dunn's latest CD, Hillbilly Deluxe. The first song " Play Something Country" is the first hit. "Whiskey Do My Talkin", " Hillbilly Deluxe" and "Believe" are great songs as well.

"Ah ooh hoo aw , play something country ".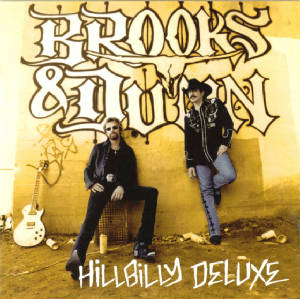 I heard the Brooks & Dunn CD, "Greatest Hits" and I became an instant fan. Since then, I have bought all of their older stuff and all of their music since. Red Dirt Road is another great CD with the title track being a song that you can listen to over and over.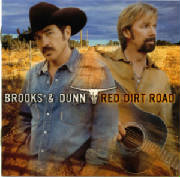 I heard a country band cover the song "Wave On Wave" And I wondered who actually sang it. Local singer/ songwriter Pat Green was the artist. I bought the CD and was happy that I did. Lots of good songs. Kinda reminds me of the Wallflowers (Jacob Dylan's (Bob Dylan's son) band.). This guy, as big a hit as he is, can often be seen at Gruene Hall. That's not a knock on Greune Hall, but it's not exactly the biggest Bar/Dancehall in Texas. One thing to say about Gruene Hall, It's a great place to party!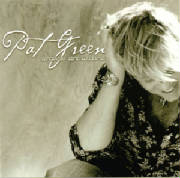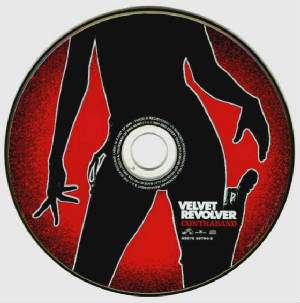 Contraband

- Velvet Revolver
This is a good CD by the Ex- Guns and Roses guys. I wonder if Axl Rose is kicking himself right now? Ex- Stone Temple Pilots lead singer Scott Weiland completes this group and handles the singer/ songwriter duties admirably. The singer has cleaned up his act and seems to have turned his life around. He should be an inspiration to anyone battling any kind of addiction. This CD rocks from beginning to end!
The Scorpions- Unbreakable
The 80's band is back better than ever. The guys from Germany know how to rock and they don't hold back any punches on this CD. Heavy guitars and a rock & roll voice make this a CD that will "rock you like a hurricane".
Van Morrison - What's Wrong With This Picture
Remember Van Morrison from way back in the 60's? "Brown Eyed Girl"? This is a CD full of slow, Jazzy music. This isn't for everyone but us babyboomers will sure appreciate good music from this talented artist.
The Eggmen
Below are two members of the Beatles cover band, The Eggmen. I had the opportunity to listen to them Saturday night ( 10 - 1- 05 ) at the Rattler Roundup in San Marcos, Texas. No wonder they have been voted the best cover band in Austin the last few years. Their attention to detail from backup vocals to special effects and even the mop top banter made me feel like I was listening to the famous lads from Liverpool themselves. They only played for an hour and a half (and that was way too short) but the songs they played were INCREDIBLE!!! Check them out at eggmen.com These guys are FAB! By the way, Rene Ruiz did a great job organizing this event. So if you see him around San Marcos, give him a big thumbs up!!!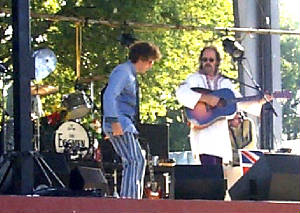 Went to the Lonely Boys concert at The Backyard in Austin,Texas. It was GREAT! This is a great place for a concert. There was shade for those of us that got there early and everything was in close proximity (food, restrooms, t-shirts, tiki bar and BEER!) The boys were rockin' as usual and their dad even did a couple of songs. Didn't get to go backstage but we still had a blast! By the way, the first two bands, Calexico and Ozomatli were great, as well.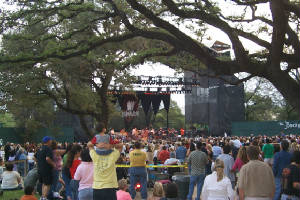 My camera doesn't do so well at a distance, in the dark.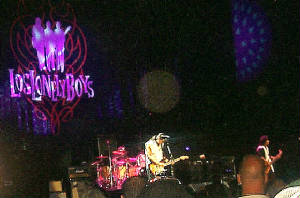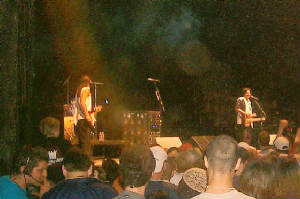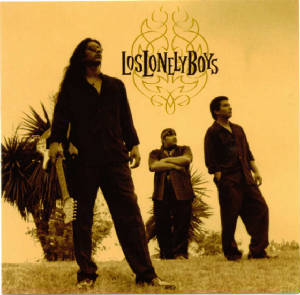 I heard the song "I Will Never Be The Same" on KLBJ one day and I thought "what a rocking song and classic rock vocals,too."The DJ said the name of the band was Podunk. I couldn't find the CD anywhere. I had Hastings order one for me and within a week I was listening to this bad (good, bad) CD that rocked from beginning to end. If you like rock, I highly recommend this CD.